\ 
         INFO NEWS
Here's What It's Like For People Trying To Find A Job After They're Released From Prison
In the four years since he was released from prison, Richard Cobbs has applied to more than 75 jobs and gone on, by his estimate, at least 10 or 15 interviews.
On several occasions, work has appeared imminent. Employers tell him the interview was great, but they just need to do a background check — and that's where it seems, at least to him, the goodwill he's earned during the application process goes down the drain.
Cobbs, 52, has had experience doing sanitation, laundry, and catering work, and completed training in culinary arts during his most recent stint in prison. And though he has spent much of his adult life incarcerated over several convictions, he's been out for four years now, living at The Fortune Society, a nonprofit organization that provides residents with food, shelter, and services ranging from substance abuse counseling to improv comedy classes.
But despite his experience and stability, hiring managers just can't seem to get past the 11-year sentence he served for attempted murder.
While it's certainly true that some of the 688,000 Americans released from prison each year have an easier time finding work, Cobbs' experience speaks to a larger point: Despite the nonprofit organizations and government agencies tasked with helping the formerly incarcerated find work after prison, doing so can be extremely difficult.
 "I try to tell people, 'Listen, I made a mistake. I was young, and I'm sorry. Give me a chance,'" Cobbs tells Business Insider. "It seems like it falls on deaf ears all the time."
It's hard to overstate how important finding a job is for people first coming out of prison. It's a boost of self-confidence, a stabilizing force, and a means of supporting themselves as they work to reenter mainstream society.
In fact, studies have found that finding a job is the thing people are most worried about when they are released, even more so than housing, Michelle Alexander writes in her book on mass incarceration, "The New Jim Crow."
To that end, there are a number of organizations dedicated to helping people with their post-prison job searches.
At The Fortune Society, which has offices in Harlem and Long Island City, New York, Cobbs has been able to take an employment workshop that prepares former inmates for interviews and coaches them on how to respond when people ask about their criminal record. He's also doing an internship in The Fortune Society's kitchen. 
Greyston Bakery hires workers regardless of whether they have prior work experience.Greyston Foundation
In addition, there are for-profit employers dedicated to giving people jobs after they have been released from prison. These include Greyston Bakery in Yonkers, New York, which hires anyone who wants a job on a rolling basis, and Cascade Engineering, a Michigan-based manufacturer that works to hire formerly incarcerated people.
Nonetheless, the challenges people face are fierce. Though New York prohibits employers from using a criminal record to deny someone a job unless the offense is directly related to the position in question, this discrimination is hard to prove, and, if Cobbs' experience is any indicator, many employers still make judgments based on applicants' past convictions.
Add that discrimination to the fact that people coming out of prison are more likely to be undereducated and struggling with substance abuse issues than the general public, and it's easy to see why a 2008 study from The Urban Institute found that just 45% of Americans who had been to prison had a job eight months after being released.
"Many people released from prison have not ever had a legitimate job before — and they're not young kids anymore," says Steven Brown, president and CEO of the Greyston Foundation, which operates Greyston Bakery. "We had a gentleman who had been in prison for 30 years and had never had a resume or been on a job interview."
Sensing a need to help bridge the gap for people coming out of prison, New York governor Andrew Cuomo created the Work for Success program in February of 2012 to link qualified applicants with companies looking to hire.
Presently, the program works with about 1,300 companies throughout New York State, including the restaurant chain IHOP.
A promotional image for Work for Success.Work for Success
Alphonso David, New York's deputy secretary for civil rights, says Work for Success has placed more than 3,700 formerly incarcerated workers in jobs in the food service, green technology, construction, and health services industries.
The program arranges for organizations like The Fortune Society to conduct an assessment of an inmate's work experience and skills when they first enter prison and follows up by giving them vocational training and information about how best to present themselves to prospective employers.
After the new employees are placed, Work for Success follows up with the companies that hired them to make sure things are going smoothly. David tells Business Insider he does not know how many people the program has attempted to place.
"We want to dispel the stigma that currently exists which is: if you commit a crime and are incarcerated, you are not only unfit to live in society but you can never be fully rehabilitated," David says. "If we do truly believe in rehabilitation, then we have to commit to it."
Perhaps the best remedy for fighting this stigma is education.
Take Byron Coles, a former inmate affiliated with the Fortune Society who was released in July after being imprisoned for two years for attempted burglary. Prior to his most recent period of incarceration, he had earned a masters degree in public administration and public affairs from Metropolitan College of New York, and had worked for over a decade in the nonprofit sector.
While he reports discrimination based on his criminal record similar to what Cobbs described, Coles was ultimately able to find a job as a case manager after three months of searching.
New York governor Andrew Cuomo was thwarted in his bid to get public funding for in-prison college education programs.AP
The impact of an advanced education is something the Cuomo administration is also acutely aware of. In February, the governor unveiled a plan to use public funds to pay for college courses inside New York prisons, about 20 years after such programs were defunded by federal and New York state laws.
Though studies suggest that prison education programs actually save the government money — because they help prevent the government from having to pay to lock people up a second time after they are released — Cuomo's plan faced strong opposition from Republican legislators, who circulated petitions with titles like "Hell No to Attica University."
Cuomo was ultimately forced to drop the plan, but David says the state is looking at other ways to put more college education programs in prison.
"School really told me that I was worth something, I was valued and that I was smart," says Fortune Society senior vice president Stanley Richards, who feels the college degree he earned while imprisoned for robbery laid the groundwork for his success after being released in 1991.
As for Richard Cobbs, who has a G.E.D. and took advantage of cooking classes while he was in prison, he has an interview next week for a job preparing food at FreshDirect — and he's confident that this time, things will fall into place.
"The only things I can do at this point are to pray, prepare myself for the interview, and put my best foot forward," Cobbs says. "I'm not going back to prison again. I don't care how bad things get or how frustrating things seem."
How this single mom survives on $7.50 an hour
$7.5o an hour.
That's how much Safiyyah Cotton makes working at a McDonald's in Philadelphia.
While her work schedule changes often and she wishes she could work full-time, Safiyyah typically works 20 hours a week and brings home about $240 every two weeks. As a single mom, it's barely enough to support her and her one year-old son, Safi.
Safi's father is incarcerated, and Safiyyah's paycheck is their only source of income.
So how does she get by? It takes a lot of penny-pinching, borrowing from friends and family, and sacrifice. Plus, Safiyyah gets considerable help from the government through benefits for food, child care, rent, and health care.
Here's a look at how she stretches her monthly budget.
Rent
Safiyyah lives in a two-bedroom townhouse with her sister in North Philadelphia. They each pay $220 a month, with the government covering the remaining $125 through the Philadelphia Housing Authority and HUD's Section 8 housing assistance program.
"My number one always is to make sure that my rent is paid so I make sure we have somewhere to live," she said.
Prioritizing her rent bill means wiping out most of her first paycheck of the month. During her pregnancy, she ended up in a shelter. She is desperate to keep that from happening again.
She also covers her gas and electricity bill, which is roughly $40 a month. She keeps that low by keeping lights off and constantly unplugging everything.
Child c
Safiyyah pays a co-pay of $10 a week, or $40 a month, for Safi to receive day care five days a week. Child Care Information Services of Philadelphia covers the rest, using funds from the Child Care Development and Block Grant Fund.
Without government help, her child care would cost $150 a week, or $600 a month -- far more than her entire monthly income.
Even though her co-pay is small, Safiyyah is several weeks behind on her day care bills.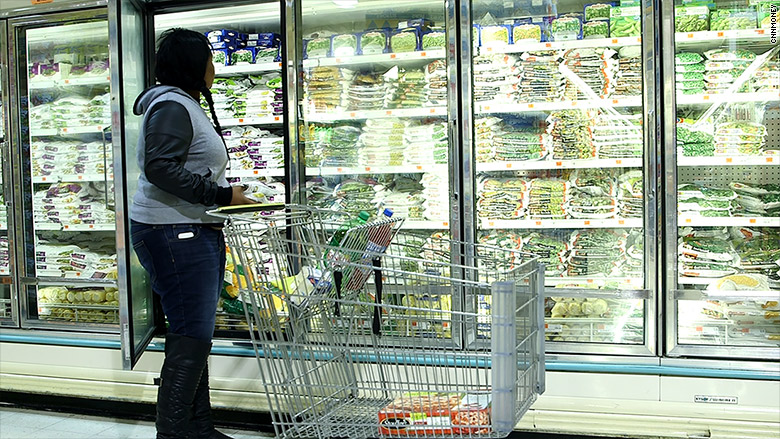 Food
Safiyyah uses SNAP benefits, or food stamps, to get her and her son through the month. She previously received $261 in food stamps every month. That number has recently been reduced to $216 a month.
To make that money last, she buys in bulk and sticks to frozen foods.
"I don't buy fresh fruits and stuff like that because it's not guaranteed that it will be eaten all in the couple of days that it will stay fresh," she said.
Safiyyah also often skips lunch to save money, but she says she always makes sure her son doesn't go hungry.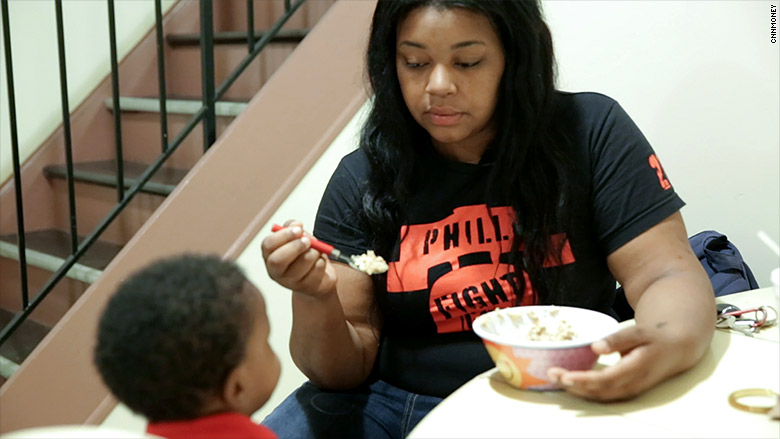 Cell phone
Safiyyah pays her cell phone bill herself, which costs about $100 a month. That's a huge chunk of her income, and she rarely pays it on time. Instead, Safiyyah says she files a two week extension every month, and then puts money towards her balance only when she has to.
But the phone is absolutely essential, she says. It's what she uses to call in to find out her work schedule, check in with Safi's day care, and stay in touch with friends and family. And in her home, there's no television. There's no computer. Safi has very few toys. Her phone fills those gaps.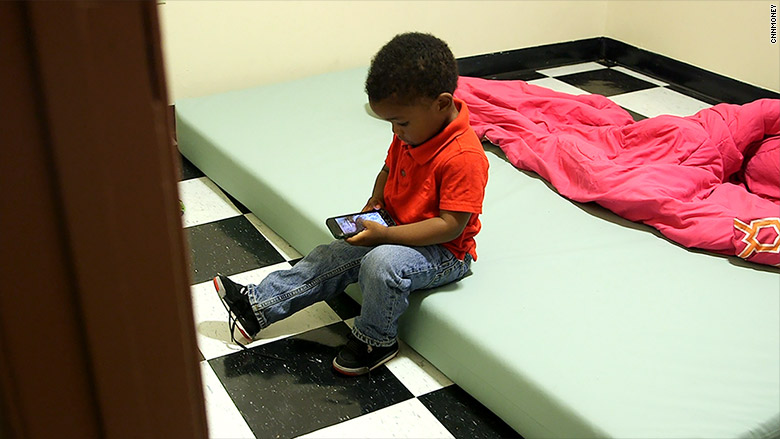 Health care
Safiyyah gets health care through a Health Partners Medicaid plan.
She says the coverage is good for Safi, but very limited for her. For that reason, she says she avoids going to the doctor.
"If I need to go or I have no other choice to go, I'll go. But if it's something I can cure at home with Tylenol or something, I won't spend the $30 to go see a doctor when I can find some remedies online or something just to save money," she said.
Recently, Safiyyah needed a root canal. But she couldn't afford the out-of-pocket cost, which she says would have been $300. She was told she could get her tooth pulled for free instead. Seeing no other solution to the pain, she decided to have the tooth taken out.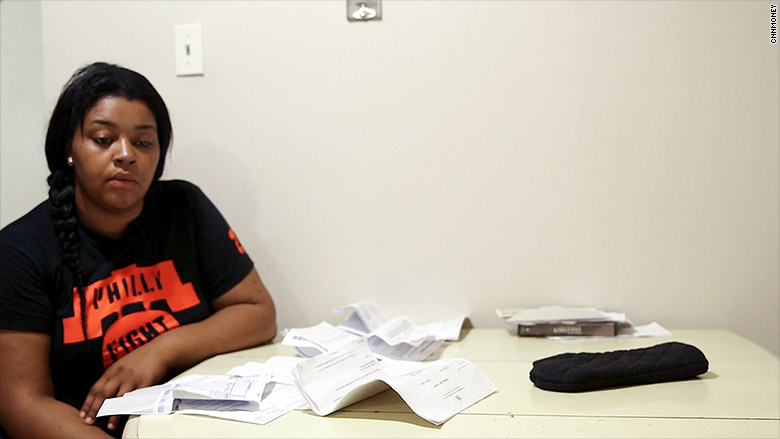 What's left?
At the end of the month, Safiyyah is often running at a deficit.
"One of my checks was $238 and it was the week rent was due. My part of the rent is $220. So it was like I paid the rent. I had no other choice. But then I find myself borrowing and borrowing."
She is past due on her gas bill, her son's day care co-pay, and her cell phone bill. But she says it could be much worse.
"If I wasn't getting rent assistance, food stamps or child care help, I think I would still be living in the shelter," she said.
 ATTN: ALL TRAVEL SALES CREWS"
In studying or analyzing the direction that this industry is moving to I've come to the realization that in order for the industry as a whole to advance grow or even survive we MUST go back to the core basics to it's guidelines rules and regulations"
While it is Okay to change with the times in accordance to improving in technology, advancing it's benefits and adding to the recreation /activities etc we must not deviate away from the principal basics that is the glue which keeps it all together.
I've watched several crews fall apart or is damm near there because they've deviated away from it's basic pushing more towards QUANTITY rather than QUALITY " to increase their sales.
In anything if you take away the core basics of the foundation to life it's like weakening the roots to an oak tree,
In family values
In religion
In education
In politics
In government
In business etc
Once you take away the basics to it's respect level there is no longer a sound positive productive structure and it opens the doors to chaos , mutiny and destructive and reckless actions by it's members"
Just look at our society today and where we're at as appose to 20 years ago with regards to the lack of respect our young have with their parents and in society, like the lack of belief or respect people have towards religion, the decay of our farming & agricultural industry with our young no longer interested in that field, the quality of teaching and education is hurting in today's society, our military is weaker, the divorce rate is higher than the unemployment rate, the job market as a whole no longer show incentives packages or appreciation  towards it's employee's our younger generation is lacking in outdoor activities in sports & fitness and the general socialization with one on one people to people contact skills or activities since social media the computer and cell phones became a major dominating factor in their lives so everywhere you see the basics is an important necessary factor to keeping it all together so it's okay to change with the times when it comes improving in technology and tweeking or renovating it's look and design and even making life more fun and beneficial while also keeping the basics in tact which is the root core foundation holding it all up"
Therefore especially in our field if you want to continue to grow or become extinct like the dinosaurs then examine your true priorities"
Why the Better Business Bureau Should Give Itself a Bad Grade
The B.B.B is scamming legit companies out of money"
BBB. Better Business Bureau. This company name is ironic by nature of its name and within the upcoming "uncovering" of BBB, I am going to Is BBB a Scam?
show you why they cannot be trusted and why their "positive" ratings are more often than not "bought" and the negative ratings are the result of companies not wanting to pay off the mobsters over at BBB. In other words…
How would you feel if the rating company you trusted was being paid off?
That is the reality of what is taking place within BBB. Companies that PAY MONEY can defend their reviews, companies that don't think it is right to have to pay BBB cannot defend their reviews. Not only this, people cannot go to BBB to post positive reviews if that given company is not paying the Better Business Bureau, so they have worked to create a system that forces companies to fatten their pockets because there system itself is geared to make every single company look negative.
"You must be accredited to be able to get a positive review, and if you do not pay, you do not get a good rating."
So you could be running a remarkable business, you could have millions of customers worldwide that absolutely rave about your company, but if you have failed to pay BBB, there is no way to get a good rating and there is only going to be the allowance for negative reviews within your company profile. You may be reading this and you are faced with the decision of whether or not you should "pay" to get accredited within the BBB, I want to help you make this decision.
Is BBB Accreditation Worth it?
BBB accreditation is a huge cash grab. Before you start thinking that I am just disgruntled about the service in general, let me explain my position on it and and why I don't think the accreditation is worth it. Or better said, why I think the accreditation is a bit of a hoax.
Let's look at a hypothetical scenario…
A totally legit company runs a very successful business. They have a competitor that complains on their BBB profile and gives them a bad rating (purposely). The company is then required to "pay" BBB and become accredited if they want to get back a good rating. This accreditation can range from $400 per year to $1,000's per year, depending on the size of the company.
In essence, it is a one way rankings site that ONLY allows you to help folks that complain if you pay BBB a sum of money every eyar.
To be honest, you are literally feeding the BBB MONSTER if you get accredited. If people stopped paying them for their ludicrous service, then they would get the hint that their entire business is a complete scam and it would force them to change.
Do they really deserve to be paid for only allow "bad" and often times "fake" negatives to be posted about your company?
That is up to you. If you do pay them though, you are the reason they are in business with such a fraudulent service. Yes, it will allow you to get a better grading, so ultimately in may be a business decision.
Me personally, I refrain from feeding them any BUSINESS because of their unethical approach to ratings and the fact that I like to operate off of principle.
F rating out of hundreds of thousands of clients that are happy? (Personal Story)
I have a personal experience to share with you.
We have never followed BBB because we have known about their scam for quite some time, however many folks that have no clue how the BBB really operates fall for the ratings.
As a result, they often times are falling for companies that are scams, but paid BBB.
Other times, they dont' choose companies because of an F rating simply because those companies are unwilling to pay BBB for better ratings.
Our company (Wealthy Affiliate) has been in business since 2005 and has been noted as the most trustworthy Internet Marketing training platform and service in the industry, in fact, it has been indepedently reviewed with "glowing" remarks by over 50,000 independent websites.
In fact, we only have 1 product complaint within BBB in 8 years in business…
BBB Product ComplaintsOut of 100,000's of customers, we have 1 complaint. Not bad right?
Well, not according to BBB. We have the following rating.
50,000-positives-1-negative
Because we REFUSE to pay BBB money to get accredited and pay them for a better ranking, they have granted us an F rating with ONE, yes 1 product complaint in 8 years. Compare that to 50,000 independent reviews online that offer us positive reviews, and you will realize how useful [sarcasm goes here] BBB has become for providing product information.
And here is the kicker. There are companies with 1,000's of complaints in BBB that are paying for "accrediation" (buying their rating) with A+ ratings. Go figure.
BBB is like having a "dislike" button without a "like" button
BBB is unlike any other rating system in the world. Go to any credible site, TripAdvisor.com for example and you will be able to leave either a positive or negative review about a company. This creates trust and creates well rounded company reviews that help you make a decision on your purchase right? Absolutely!
TripAdvisor.com Ethical ReviewsBBB works a little differently, if you want to allow "positive" reviews, you have to pay for them. If you don't, they are going to continue to only allow "negative" reviews.
Plain and simple, if you are still using BBB to review companies, you need to reconsider. It is an "old school" way of gathering information and I think that after reading this you may realize that it is not a good way to capture accurate company information. Companies can easily buy high ratings and many of the best companies in the world have low ratings because out of principle, they are not willing to pay BBB for a dated service that few people really benefit from.
Are Better Business Bureau Approved Work at Home Jobs Trustworthy?
I guess based on everything that you have learned, the answer is no. These days you are much better to search the Internet for unbiased reviews, seek out complaints from companies (not through BBB), and to do your own personal due diligence when looking to find a trust worthy "work at home" opportunity.
As you have probably gathered from my review, there is a reason why companies don't pay BBB for a higher rating and because of this, the actual ratings should not be trusted. There are a few legitimate work at home jobs that bode well within BBB although they have a low rating (like Wealthy Affiliate, 3 complaints in 8 years…pretty damn good in my opinion).
If you want to find out whether a work from home job/opportunity is bbb approved, then you can check it out on bbb.org. Just know that these reviews will carry little value in respect to the actual product quality. Ratings are bought and there are lots (LOTS) of legitimate companies that you could benefit from that simply are not willing to pay into the BBB scam.
Do you have an experience with the Better Business Bureau that you would like to share? I am sure there are many of you reading this that have some really great stories and I would love to hear them. Please leave them within my comments below.
Posted in: Avoiding Scams, Scam Alert | Tagged: bbb approved make money opportunities, bbb approved work from home jobs, is bbb a scam, is bbb legit, should i trust bbb
SO...I HEARD YOU WANT A GOOD GRADE"
 _________________________________________________________________________________________________
A Hard Day's Work Deserves a Fair Day's Pay
It's been a good few days for America.
On Thursday, the Supreme Court reaffirmed the Affordable Care Act. It is here to stay.
And, Democrats and Republicans in Congress paved the way for the United States to rewrite the rules of global trade to benefit American workers and American businesses.
On Friday, the Court recognized the Constitutional guarantee of marriage equality. With that ruling, our union became a little more perfect -- a place where more people are treated equally, no matter who they are or who they love.
These steps build upon America's steady progress in recent years. Out of the depths of recession, we've emerged ready to write our own future. Our businesses have created 12.6 million new jobs over the past 63 months -- the longest streak on record. More than 16 million Americans have gained health insurance. More kids are graduating from high school and college than ever before.
But more work lies ahead, if we are to succeed in making sure this recovery reaches all hardworking Americans and their families.
We've got to keep expanding access to affordable health care. Right now, 22 states haven't expanded Medicaid -- even though, under the ACA, they can. We'll keep encouraging those governors to do the right thing for their constituents. And we're making sure people know all the ways that they can benefit from the ACA. Wednesday, I'll go to Tennessee to meet Americans whose lives have been changed by this law, and to talk about how, instead of refighting settled battles of the past, we can move forward together.
We've got to keep making sure hard work is rewarded. Right now, too many Americans are working long days for less pay than they deserve. That's partly because we've failed to update overtime regulations for years -- and an exemption meant for highly paid, white collar employees now leaves out workers making as little as $23,660 a year -- no matter how many hours they work.
This week, I'll head to Wisconsin to discuss my plan to extend overtime protections to nearly 5 million workers in 2016, covering all salaried workers making up to about $50,400 next year. That's good for workers who want fair pay, and it's good for business owners who are already paying their employees what they deserve -- since those who are doing right by their employees are undercut by competitors who aren't.
That's how America should do business. In this country, a hard day's work deserves a fair day's pay. That's at the heart of what it means to be middle class in America.
As president, my top priority is to strengthen the middle class, expand opportunity and grow the economy. That's why I believe in middle-class economics -- the idea that our country does best when everyone gets a fair shot, everyone does their fair share, and everyone plays by the same set of rules. It's driven me from day one. It's fueled our American comeback. And it's at the heart of the fundamental choice our country faces today.
Will we accept an economy where only a few of us do exceptionally well? Or will we push for an economy where every American who works hard can contribute to and benefit from our success?
Will we invest in programs that would help educate our children, maintain our roads and bridges, and train our workers for the high-paying jobs of the future? Or will we cut these programs, and decide to give more to the wealthiest Americans instead?
To me, the answer is clear. Let's invest in America's future. Let's commit to an economy that rewards hard work, generates rising incomes, and allows everyone to share in the prosperity of a growing America. Let's reverse harmful cuts to vital programs, and instead make the critical investments we need to grow our economy and strengthen the middle class.
That's what I'll be talking about this week -- this choice, and these priorities.
America is at its best when we look out for one another. We soar when we strive to do better for one another. That's what I'm focused on and that's what I'll fight for every day for the next 18 months.
Let's get to work.
Getting Ahead at Work:
President Obama's Upscale / upskill Initiative
 The Upscale / upskill Initiative is a public-private effort meant to create clear pathways for the more than 20 million workers in front-line jobs that too often lack opportunities to progress into higher-paying jobs. Developing the skills and abilities of these workers, and empowering them to contribute more at work, presents a significant opportunity to improve their wages and to increase the productivity and competitiveness of employers.
If you are an employee, employer,labor leader or educator then we need you on board to bring America's people to greater competitive heights "
To learn all about  President Obama's Upskill Initiative click the link :UPSKILL INIIATIVE
Obama: Community college should be 'as free and universal in America as high school'
 TOPS NEWS
Black Teens Hit Hardest by Unemployment in Illinois
Reports from around the country still paint a dismal employment picture even though national unemployment is now around 8 percent. Older workers and younger workers are usually the hardest hit and both have considerably higher unemployment than the national averages. Illinois is not much different from any other state.
Not much different, that is, until you factor in unemployment among black teens. While overall teen unemployment is at least three times the state average, unemployment among black teens is considerably higher currently averaging around 47 percent. Joblessness with white and Hispanic teens goes up and down with the economy. Not so with blacks.
Currently in Illinois slightly less than 12 percent of the black teen population is working. The numbers for white teens is 30 percent and Hispanics around 26 percent. The statistics are daunting and it does not appear that anyone has a clear answer or solution to the problem.
One interesting dynamic is that white and Hispanic teens may be taking lesser jobs than they normally would thereby filling the employment pipeline. Black teens are somehow left out and their unemployment numbers rise dramatically and stay high. Economists are not sure how to analyze this phenomenon, as, by their own admission, they have not seen this before.
One troubling side note to black teen employment is that they have never been expected to enter the job market. Just completing high school has been considered a major accomplishment among black inner city students. In some circles, it was just assumed they lacked the motivation to enter the workforce. Another component among young blacks is lack of skills, even among high school graduates.
Simply put, many black teens in Illinois don't know where to begin to look for work. Compounding matters is they probably do not have anyone to show them the ropes. Even a higher minimum wage would not solve the problem. Higher wages may automatically exclude black youths who lack the necessary preparation to be successful in today's competitive job market
'Dying Out Here': U.S. Job Gains Leave Black Women Behind
A creeping escape from the Great Recession is bolstering job prospects in every demographic slice of the U.S. economy but one: African American women.
Adult black females in August posted an unemployment rate of 10.6 percent, the same rate that group registered in August 2013 — while during that span unemployment rates decreased for black men, white men, white women, Latino men, Latino women, and adult Asian Americans, according to the latest federal labor figures.
Some economic experts — and some out-of-work black women — assert the numbers lead them to one uneasy conclusion: racial and gender hiring biases are blocking many adult females from regaining prerecession financial footholds.
To read more click here: IN PLAIN SITE
 IT'S ABOUT TIME!!!
SIGN THE PETITION: WAGES
Making $7.75 an Hour, and Figuring There's Little to Lose by Speaking Out
 Shenita Simon watches a twilight rain wash across Brownsville. Softly, from her apartment in a public housing tower, she begins to talk of her life's impossible mathematics

This 25-year-old woman with striking black eyes and hair pulled back in a bun is a shift manager at KFC — her title is good for 50 cents an hour above minimum wage. From this, she and her husband, Jude Toussaint, an unemployed antenna installer, buy clothes for their three children and food, and help her mother with the rent.
Her wages erode on all sides. Often, she said, she finds her check is hours short. And when she works overtime, she receives two checks, each at straight time, as if she worked for two different employers rather than a single KFC across from Bargain Land on Pitkin Avenue in Brooklyn.
Last year boiling oil spilled over and scalded her hands; she received $58 a week in workers' compensation, she said. Nearly every day her manager called and demanded: When are you returning to work?
She looks you square in the eyes.
"I'm beyond not satisfied," she says. "This isn't the life I want for my children. This isn't the life I want for myself."
Forget the gilded dreams of 90th-floor penthouse-dwelling hedge fund masters for just a second. We'll mourn the ridiculously high price tag for brownstones in another column. The economic comebacks of New York, of New Jersey and of so many states ride piggyback on the growth of low-wage jobs, on the hiring of those who dip French fries in boiling oil and pull flesh off the bones of factory chickens.
Fast-food businesses have added 25,000 jobs in New York in the past decade. Last week I sat in a low-ceiling City Council hearing room and listened and squirmed as fast-food workers — the Wendy's hamburger slinger, the Papa John's bike delivery man, the woman who mops floors in KFC — recounted the prosaic facts of their lives for a fact-finding panel.
There was a Mexican man with gray hair and a bushy mustache who trained as an architect. His two daughters live in Mexico and depend on him, and he sleeps in a basement and makes $5 an hour delivering Papa John's pizza.
"I delivered during Hurricane Sandy," he said in Spanish. "They told us to ride bent over, so that the pizzas didn't get wet."
Naquasia Legrand, a 22-year-old from Canarsie, Brooklyn, works at two KFCs. She washes dishes at one for $7.75 and mops floors at the other for $8. She says she must work four or five hours each week off the clock.
She needed to buy a MetroCard last week so she skipped lunch. She shakes her head. "I think I deserve to eat lunch."
The apostles of our new economy advise us that the middle and working classes need to "retool," to learn new skills, to become more productive. Yes, well, O.K. When, where and with what time and whose money?
There is good news to be heard here. Workers who earn minimum wage realize their employers have no real hold on their tongues.
"I'm making the minimum wage plus 50 cents," notes Ms. Simon. "I definitely can find another job."
A great ferment brews. The car washers of the Bronx and Brooklyn have voted to form unions, as have security guards at Kennedy Airport. Twice in the past nine months, fast-food workers — with the aid of Fast Food Forward, a community organizing and labor coalition — have rallied and demanded higher wages and an end to wage theft.
How this ends is uncertain. American labor law is a beaten cur. Strikes are risky, and fast-food corporations are well-heeled adversaries. The current campaigns hope to embarrass these corporations.
As often, though, this sector carries an immunity to shame.
Papa John's chief executive, John Schnatter, makes $2 million per year and lives on a faux medieval estate outside Louisville, Ky. He spoke recently of trying to subvert Obamacare's provisions by cutting the hours of all of his workers to less than 30 hours. YUM! Brands, which owns KFC and Taco Bell and whose chief executive makes $11.3 million per year, helped lead the battle against paid sick days.
Mention long odds to these workers and they lead you back to the mathematics. They bob along the poverty line in an impossibly expensive city. What's to lose?
Ms. Simon, still dressed in the black KFC shirt with "The Original Original" logo, shakes her head when asked if she's worried about annoying her employer. "I have no lies to tell," she says. "This is just my life."
  NATIONAL PROGRAM OFFERS INFORMATION TECHNOLOGY INTERNSHIPS (AND JOBS) TO LOW INCOME YOUNG ADULTS
 Students celebrate their recent graduation from the Year Up intensive training program
Nationwide (BlackNews.com) -- Year Up is a one-year, intensive training program that provides low-income young adults, ages 18-24, with a combination of hands-on skill development, college credits, and corporate internships. Their program emphasizes academic and professional rigor, setting expectations high for quality of work and professional behavior. A strong structure guides students through the steps necessary for achieving success in the classroom and the workplace.
For the first six months of the program, students develop technical and professional skills in the classroom. Students then apply those skills during the second six months on an internship at one of Year Up's 250+ corporate and government partners. Students earn up to 23 college credits and a weekly stipend, and are supported by staff advisors, professional mentors, dedicated social services staff, and a powerful network of community-based partners.
Since its founding in 2000, Year Up has served over 6,000 young adults.
 UPDATE:
 Unemployment rate falls to 7.5%; 165,000 jobs are added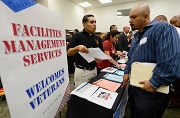 (Credit: Kevork Djansezian/Getty Images)
The Labor Department says the economy added 165,000 nonfarm jobs in April, besting a forecast of 145,000. The unemployment rate dropped to 7.5%
WANT TO WORK FOR PRESIDENT OBAMA?
-- African American Interns Wanted For 2013 White House Internship Program --
Washington, DC -- The 2013 White House Initiative's Year-round Internship Program provides current undergraduate and graduate students with an opportunity to learn about African American-focused education policy, communications, and outreach at the U.S. Department of Education in Washington, D.C.
Responsibilities include, but are not limited to: Collecting and compiling research and data on African American education, institutions and communities; Performing data entry and managing the office database; Greeting and escorting visitors to meetings; Participating in strategic planning and staff meetings and other Department policy briefings and meetings relevant to the work of the Initiative; Responding to constituent inquiries verbally or in writing; and more.
Throughout the course of their internships, students will have the opportunity to attend and potentially lead in the planning and management of meetings, briefings and other special events on the Hill, at the White House and in other federal agencies.
To apply for the 2013 White House Initiative's Year-round Internship Program, visit:
www.findinternships.com/2013/04/white-house-initiative-year-round-internship-program.htm
February Jobs Report: U.S. Economy Adds 236,000 Jobs; Unemployment Rate Down To 7.

Despite constant budget fights in Washington, the U.S. economy managed one of the best months for job gains in the past year in February, driving the unemployment rate to its lowest level in more than four years.
But the job market would be even better, and the unemployment rate even lower, had not the government spent most of the recovery cutting spending and jobs. And though Wall street may cheer February's jobs report, the pain of government cutbacks looks to get worse as the year goes on.
U.S. employers added 236,000 jobs to non-farm payrolls in February, the Bureau of Labor Statistics reported on Friday, up from 119,000 in January. That was the best payroll growth since 247,000 jobs last November and the second-best month for job growth of the past 12 months.
The unemployment rate dropped to 7.7 percent from 7.9 percent in January, with 12 million people looking for work. That is the lowest unemployment rate since December 2008, when the rate was 7.3 percent.
"The recovery is gathering momentum," Paul Ashworth, chief U.S. economist at Capital Economics, wrote in a note.
But U.S. non-farm payrolls are still 3 million jobs shy of their pre-recession highs, and the jobless rate is still too high to convince the Federal Reserve to stop pumping cash into the economy.

NEW BOOK REVEALS HOW TO BUILD YOUR OWN PERSONAL BRAND FOR SUCCESS
-- In his new book, "Fresh Passion: Get a Brand or Die a Generic", author Michael D. Brown, says "During this economic tsunami, you're either an extinct generic or a distinct brand..." --

Bookcover and author, Michael D. Brown
Nationwide (BlackNews.com) -- Find your passion. For most it is an elusive goal, lost in the hectic day-to-day shuffle, where making ends meet is the primary focus. Personally, professionally, and economically, we lack fulfillment, but the thought of taking a step back and auditing our lives seems like too cumbersome a task. Absent from our lives is the guidance and know-how to build our personal 'brand' of the type of person we once strived to be and discover the success we once sought after. And in the economic tsunami that's threatening to engulf us all, it is more important than ever to become a fresh and competitive personal brand.
Enter: Fresh PASSION: Get a Brand or Die a Generic by Michael D. Brown, renowned speaker, management expert, and author.
"Where downsizing, lay offs, hiring freezes, limited promotions, declining salaries and painful unemployment is the norm, your personal brand must stand out," says Brown. "There are anemic opportunities for generics as the return on investment is seen as limited. Proven brands are best positioned for exponential personal, professional and economic success."
In Fresh PASSION, Brown applies his proven formula from his efforts in reengineering and enhancing customer service strategy and experience for numerous global brands such as Marriott, Wendy's, Capital One, Omni Hotels, and the U.S. Army. He empowers individuals to shed their 'generic' brand for a personal one that maximizes potential and helps achieve success in all facets of life -- personal, professional, and economic.
"Generics are generally less noticed, aren't rewarded, and don't capture the success they desire as a result of failing to put the necessary work into building and broadcasting their brand," adds Brown. "It's simply not an option that any career-oriented person should entertain for even a moment."
In the book, Brown outlines the Fresh PASSION® methodology in easy-to-follow detail, equipped with interactive worksheets and quizzes to keep readers engaged in the process and on the right track. Each chapter includes the worksheets, personal anecdotes, and suggested activities that guide the reader through the analytical process that results in the articulation and creation of their own distinct brand.
At the core of the book is the Fresh PASSION® process, the mastery of which will enable readers to create a well-defined personal brand that will allow them to accomplish their objectives. The combination of eight skills and attitudes crucial to creating your own personal brand include:
* Preparing yourself: continuing your education through classes, professional development, and maintaining an active intellectual interest and knowledge capital in your career and life
* Aspiring to reach your goals: having particular ambitions and then setting out to achieve your goals - aim at nothing and you are guaranteed to hit it!
* Staying laser-focused: intently focusing on each area of Fresh PASSION®, otherwise you'll miss the mark and not deliver your brand
* Selling your value: understanding your return on investment, having confidence in your fullest potential, and constantly searching for new opportunities that will help you meet, or even succeed, that potential
* Invigorating yourself: having the tenacity and discipline to go the distance and secure your personal and professional success - fan the flame within and catch on fire!
* Omitting the negative: learning from the inevitable negative experiences you will encounter without dwelling on them or letting them consume the valuable real estate in your head - you have so much more ahead of you!
* Nailing the brand: successfully packaging your substance (your core) up and putting a bow on it so that you become a fresh brand that can successfully compete and WIN internally and externally, which will enable you to achieve exponential personal and professional success.
* Keeping it 'Fresh': you need to do it all with a complete new and dazzling approach
"In today's competitive world, you're either a distinct and competitive brand or an extinct generic," comments Brown. "It is when you develop this distinct brand that you will be able to deliver the experience people are willing to subscribe to and pay for. Your personal brand is that solid and consistent impression that comes to mind when people think of you."

About The Author
Michael D. Brown is a sought-after speaker, management expert, and author. He has developed a customer service process (6.5 Fresh Steps to World-Class Customer Service) that during the past 15 years has been credited with re-engineering and enhancing the customer service strategy and experience for a number of small, mid-sized and Fortune 500 companies, including Marriott, Macaroni Grill, U.S. Army, Wendy's, Omni Hotels, Houston Rockets, Capital One, Wells Fargo, Greater Houston Partnership, Jason's Deli, Amoco Oil Company, ARCO Oil Company, Murphy Oil USA - The Wal-Mart Project, British Petroleum, and a number of colleges and universities. Michael was ranked in the top 5 percent among high-performing leaders and coaches in leading Global Fortune 500 companies.
Brown is a globally recognized authority on customer service leadership for developing this customer service strategy that delivers to the frontline and three levels up in the user's organization. This work was later turned into the best-selling book Fresh Customer Service - Treat the employee as #1 and the customer as #2 and you will get customers for life. He has been featured in such media outlets as Christian Science Monitor, NPR, Black Enterprise, and BusinessWeek.com
Michael D. Brown is available for speaking engagements.
For more details, visit
www.myfreshbrand.com
UNDERSTANDING COMMISSION PAID JOBS 
A commissioned sales person  someone who sells a product or service and is paid for every sale that he/she completes.
A commissioned salesperson may work strictly on commission, which means that they are  paid only for each product or service they sell. Alternately, a salesperson may receive a salary in addition to being paid on commission. Commissioned sales people  may sell many types of products, ranging from clothing to health and beauty supplies household goods and reading materials etc. A commissioned sales person  also typically sells services, such as automobile club memberships.
Many commissioned sales people  will have experience in retail selling. A commissioned salesperson will typically be well dressed and well spoken, with a proven record in successful selling. Some individuals who are employed in a commissioned selling job will travel in their work.outside sales  on commission may involve something known as cold canvassing or cold selling.
Cold selling jobs generally pay on commission, and some offer salaries as well. A commissioned salesperson  who does cold selling may rely on various techniques. Most often, the commissioned salesperson will make a telephone call to a perspective client. This is generally done at random or from a list. Cold calling sales done on commission may also be done by selling door-to-door, typically by visiting homes and or place of businesses .
A commissioned salesperson will typically have to meet or exceed goals established by the company they work for. The salesperson who works on commission is generally not limited in the amount of money they can earn. In most cases, commissioned sales people  will have the potential to earn unlimited income. they may set goals for himself based upon company requirements and his own required income.
Commissioned sales representatives may do cold calling to establishments and or make personal visits to homes  or businesses . They may sell products such as glassware or utensils, or sell a service such as cleaning vacuums silverware reading materials etc. In such a case, the commissioned salesperson will generally assemble a portfolio with available product or service descriptions.They may also be an appointment-setter who works on commission.
Presentation is a crucial aspect in commissioned sales. The sales representative will generally establish an effective method for presenting their  product or service. As part of his presentation, They may be required to memorize a speech, which is often referred to as a sales pitch. Closing the sale is probably the most important step the commissioned salesperson has to complete. Additionally, they may be required to write a sales report for their boss after the completion of a sale.
Starbucks Truck Sets Up Shop Next To Local Coffee Stand
 Take that, poor little coffee stand!
Starbucks has allegedly set up a promotional coffee truck -- er, bus -- serving free cups of joe next to a tiny New York City coffee vendor, according to a photo that appeared on Reddit on Friday.
The small coffee stand still has at least one customer, the photo shows. But it may want to change locations soon. After all, who can compete with free?
Alisa Martinez, a spokeswoman for Starbucks, told The Huffington Post that the coffee chain did not intend to take business away from any local businesses, adding that the truck has since moved to another location in New York City and will continue to change spots daily.
Unemployed Black Woman Pretends to be White and Gets More Job Offers
 
Yolanda Spivey, an African American woman, was recently looking on Monster.com for a job in the insurance industry, but found that she wasn't getting any job offers. So, as an experiment, she set up a fake account identifying herself as white and changing her name to Bianca White to see if employers would respond differently. Here's her story below in her own words (as originally printed in Clutch Magazine):

Two years ago, I noticed that Monster.com had added a "diversity questionnaire" to the site. This gives an applicant the opportunity to identify their sex and race to potential employers. Monster.com guarantees that this "option" will not jeopardize your chances of gaining employment. You must answer this questionnaire in order to apply to a posted position - it cannot be skipped.

At times, I would mark off that I was a Black female, but then I thought, this might be hurting my chances of getting employed, so I started selecting the "decline to identify" option instead. That still had no effect on my getting a job. So I decided to try an experiment: I created a fake job applicant and called her Bianca White.

First, I created an email account and resume for Bianca. I kept the same employment history and educational background on her resume that was listed on my own. But I removed my home phone number, kept my listed cell phone number, and changed my cell phone greeting to say, "You have reached Bianca White. Please leave a message." Then I created an online Monster.com account, listed Bianca as a White woman on the diversity questionnaire, and activated the account.

That very same day, I received a phone call. The next day, my phone line and Bianca's email address, were packed with potential employers calling for an interview. I was stunned. More shocking was that some employers, mostly Caucasian-sounding women, were calling Bianca more than once, desperate to get an interview with her.

All along, my real Monster.com account was open and active; but, despite having the same background as Bianca, I received no phone calls. Two jobs actually did email me and Bianca at the same time. But they were commission only sales positions. Potential positions offering a competitive salary and benefits all went to Bianca.

What do you think?
MADE IN AMERICA CREATING JOBS FOR CHRISTMAS"
Christmas, the biggest holiday of the year, is a time when families decorate their tree, write their wish lists and get ready to come together for the holiday.
Today's pre-holiday preparations also came with predawn scraping and clawing in Black Friday shopping melees. While those shoppers likely had little time to check the labels to see where their products are made, we took the time to crunch the numbers.
Share Your Made in America Christmas Story 
In the 1960s, nine out of every 10 products Americans bought for the holidays were made in America. Today easily more than half of what we buy is foreign-made.
So after nearly a year of crisscrossing the country as part of our Made in America journey, we remembered what economists across the board told us at the very start: If every American spent $64 on something made in America, we could create 200,000 jobs right now.
That might sound like a lot to spend until we heard that the average American spends $700 on Christmas or holiday gifts.
So where will you spend your money this year?
If you're looking for a toy train, the choice may come down to Indiana or China, both the same price.
The difference is that if you choose China's train, you're supporting China's exploding middle class. Factories there are already geared up: These next four weeks are their most profitable of the year.
On our tour through Yiwu, China, last November we saw firsthand some of the more than 1 million products ready to be shipped to the U.S. There were balls, balloons, baby dolls and even Santa Claus.
We know you might not be able to find American products for everything on your list — video games, TVs, stereos and other electronics are virtually impossible to find — but remember, economists told us it's just one thing. It takes just $64 of that $700 many of us spend to create jobs for Christmas.
Are you in?
BREAKING NEWS"
US Manufacturers Have Three Million Available Jobs To Fill 
If you're one of the 23 million Americans currently out of work or underemployed then buck up. It might interest you to know that US manufacture
s currently have 3 million job openings. And according to a report on "60 Minutes" last night, the only thing standing between you and a paycheck is a little thing called a "skills gap."
According to Brian Pitts, the "60 Minutes" correspondent covering last night's story, the idea that American manufacturers have all taken their jobs out of the country is an exaggeration. There are still plenty of manufacturing plants here in the states. Right now, Pitts says, there are more than 3 million job openings in the US, and as many as 500,000 of those jobs aren't being filled because employers can't find qualified workers.
Pitts took his "60 Minutes" show on the road to Nevada to visit with Karl Hutter, the new chief operating officer of Click Bond in Carson City. Nevada has the highest unemployment rate in the country. In 2010 the unemployment rate in Nevada shot up to 14.9 percent and it's consistently stayed well above the national average. Yet there are thousands of job openings across the state.
Click Bond manufactures fasteners. Their largest customer is the Defense Department. They currently employ 325 people and they need to hire more. The challenge, says Hutter, is finding qualified people who can handle the computer controlled machines in their manufacturing facility. Employees need to be able to program the computers, operate the machines, fix the machines when they break down, and inspect the fasteners to make sure they're up to spec.
According to Ryan Costella, head of Strategic Initiatives at Click Bond, there's a skill gap at entry level positions.
"It's those basic skill sets. Show up on time, you know, read, write, do math, problem solve. I can't tell you how many people even coming out of higher ed with degrees who can't put a sentence together without a major grammatical error. It's a problem. If you can't do the resume properly to get the job, you can't come work for us. We're in the business of making fasteners that hold systems together that protect people in the air when they're flying. We're in the business of perfection."
While Costella says Click Bond has done everything they can to find qualified workers, he never talks about what they actually do. Do they simply hang a "Help Wanted" sign in the window or do they actually hold job fairs to let the community know what they're looking for and what they have to offer?
And Hutter leads you to believe that the problem is a lack of education and drive, that people looking for a job today can't read or write, can't do math or solve problems. "We can't find enough students who are interested in pursuing these trades. Because it seems hard? I don't know. Because it seems like you have to do math? I don't know."
But he only briefly touches on the fact that the "math" skill the company is looking for involves much more than basic addition or multiplication. Not only do Click Bond employees have to know how to program the computers they're working on, they also have to have at least high school level trigonometry skills.
In exchange for these math and computer programming skills, which for most people would most likely require some measure of secondary education, Click Bond is willing to pay newly hired employees $12 per hour. In Nevada, the average hourly wage covered by unemployment in 2011 was $20.13.
Pitts also talked with Klaus Kleinfeld, German-born CEO of Alcoa in Whitehall, Michigan. Alcoa employs 2,200 people working three shifts a day, seven days a week, producing parts to make jet engines 50 percent more fuel efficient.
Kari Belanger had an engineering degree when she was hired by Alcoa and Kleinfeld lamented the fact that Alcoa had to train her to program their robots, work that was done by hand 50 years ago. And Kleinfeld also said Alcoa helped pay for Rod Coley to go back to school to get his engineering degree so he could X-ray parts before they leave the factory.
The Alcoa plant currently has 27 job openings, but Kleinfeld says that Alcoa absolutely has no problem with a skills gap, but it sure would be a lot easier if people would "get an education." Says Kleinfeld, "The environment is changing all the time. And if you don't stay on top of things, you know, somebody will eat your lunch."
Asked why he believes there's a skills gap, Kleinfeld responded, "Well, this is not a society where you can tell somebody what– where to go work, or where to– what education to get, right? "
While there may very well be 500,000 job openings in manufacturing facilities across the nation, these jobs require a specialized skill set that wasn't required even a decade ago. Kleinfeld implied it, but Hutter made it perfectly clear – employers are not willing to pay to train employees anymore.
"I can't afford to develop every worker that I need from scratch. One, that's not my core competency. I'm– we're not a school, we're a company. We can't do that well. Two, we can't afford to do that. If we actually had to do that from scratch, even if we could, the jobs would have to go somewhere else, because it's simply not economically tenable to do that."
JEFFERIES BACK ON LIFE SUPPORT WITH JOB MERGER
 By BEECHER TUTTLE 11/13/2012
 For once, the fear of risk didn't result in the hemorrhaging of talent. Leucadia's proposed acquisition of Jefferies represents a rare bright spot in the investment banking world littered with layoffs, cutbacks and investor angst.
By buying the 72% of Jefferies it doesn't already own, Leucadia is offering financial backing to a firm that, some say, has a balance sheet that can't safely support investment in the volatile markets in which it plays. And in doing so, Leucadia likely saved the jobs of hundreds of Jefferies employees who would have been vulnerable if a competing bank made the purchase, something many analysts felt to be a likely scenario.
All 3,814 jobs at Jefferies are now safe, said Chief Executive Richard Handler. "If you look at a sale of an investment bank, this is as close to perfect as it gets," Richard Lipstein, managing director at executive search firm Gilbert Tweed Associates, told eFC.
The amount of support provided by Leucadia borders on overwhelming. The $3.6 billion acquisition cost is 1.2 times Jefferies' book value, according to the New York Times. Compare that to the stock price of Morgan Stanley, which is trading at 0.6 times its book value, or Goldman Sachs, trading at 0.9 times its book value.

Big banks may be too big to fail, but they also seem too big to invest in, at least when compared to their smaller brethren.
UPDATE:  Massive List Of Post-Election Firings And Layoffs set to happen all over America"

By Michael, on November 9th, 2012
 The victory by Barack Obama on election night has resulted in a huge wave of firings and layoffs all over America.  A large number of businesses seem to have suddenly shifted into panic mode.  The number of layoff announcements that we have seen in the last 48 hours has been absolutely shocking.  So why is this happening?  Well, the truth is that the federal government is absolutely suffocating small businesses all over America with rules, regulations and taxes.  If you have never tried to run a small business, then you have no idea how oppressive this system actually is for people that are trying to run small businesses successfully.  It has steadily gotten worse over the years no matter who has been in the White House and no matter who has controlled Congress.  So we shouldn't put 100% of the blame on Obama.  Bush massively expanded government and made things harder on small business people too.  But what many small business people were looking for on this election day was just a little bit of help.  Many were desperately holding out hope that Obamacare would be repealed so that they would not have to get rid of some of their employees.  Many were hoping to get a little bit of relief from the crippling regulations and taxes that are absolutely crushing them.  But now that Barack Obama has been given another four years, they understand that there is no hope on the horizon and that things are only going to get worse.  So they are making the hard decisions that they feel are necessary in order to survive in this economic environment.
And I certainly don't blame them.  You only want to have employees if you can make a profit on them.  And in this environment it is getting harder than ever to make a profit on an employee.  You see, the truth is that what you cost your employer goes far beyond your salary or your hourly wage.  I think many of you would be absolutely shocked if you learned how much it actually costs your employer to employ you.  And now thanks to Obamacare, that cost is going to go up even more.
Many businesses are not even feasible at all in this economic environment.  Many small businesses had been holding out hope that somehow this election might turn things around and make it possible for them to keep going, but when Obama won it was kind of like the straw that broke the camel's back.
You can't do what the federal government and the state governments are doing to us and expect to have a thriving economy.  They are choking the life out of us.
New businesses and small businesses are supposed to be at the heart of our economic system.  Unfortunately, the environment that has been created is absolutely killing them.  This is a recipe for disaster.
In a previous article, I noted that the number of jobs created at new businesses in 2010 in the United States was less than half of what it was back in the year 2000.
Now we can expect that number to get even worse and we can expect large numbers of small businesses to shrink in size or close their doors completely.
The following is a list of some of the post-election firings and layoffs that we have seen since Tuesday night...
#1 Utah
A Utah coal company owned by a vocal critic of President Barack Obama has laid off 102 miners.

The layoffs at the West Ridge Mine are effective immediately, according to UtahAmerican Energy Inc., a subsidiary of Murray Energy Corp. They were announced in a short statement made public Thursday, two days after Obama won re-election.

The layoffs are necessary because of the president's "war on coal," the statement said. The slogan is one used frequently during the election by Murray Energy CEO Robert Murray, who was an ardent supporter of Republican presidential candidate Mitt Romney.

In its statement, UtahAmerican Energy blames the Obama administration for instituting policies that will close down "204 American coal-fired power plants by 2014" and for drastically reducing the market for coal.
#2 Ohio
I work for the oldest and largest health insurer in the state of Ohio in the underwriting department. At 9 a.m.this morning, my department (about 50) were called into a meeting in the executive boardroom. We were informed that due to a provision in the healthcare 'reform' effective 2014 called guarantee issue, our services would no longer be needed, and we were offered severance  So Obama got to keep his job, and we lost ours. It is maddening that some tyrant 400 miles away can have such a ruinous effect on peoples lives.
#3 Nevada
A Las Vegas business owner with 114 employees fired 22 workers today, apparently as a direct result of President Obama's re-election.

"David" (he asked to remain anonymous for obvious reasons) told Host Kevin Wall on 100.5 KXNT that "elections have consequences" and that "at the end of the day, I need to survive."

Here's an excerpt from the interview. Click the audio tab below to hear even more from this compelling conversation:

"I've done my share of educating my employees. I never tell them which way to vote. I believe in the free system we have, I believe in the right to choose who they want to be president, but I did explain as a business owner that I have always put my employees first. I always made sure that when I went without a paycheck that [I] made sure they were paid. And I explained that I always put them first and unfortunately I'm at a point where I'm being forced to have to worry about me and my family now and a business that I built from just me to 114 employees.
#4 Posted below is a list of layoff headlines from the past few days that was posted on AmericanThinker.com...
Obama was "fired up" and so were the voters, and so now, the mass firings begin. Here's a collection of today's headlines.  Please say a prayer for the families who will be suffering. Had Romney won, many of these companies would now be hiring.

Teco Coal officials announce layoffs

Momentive Inc plans temporary layoffs for 150

Wilkes-Barre officials to announce mandatory layoffs

600 layoffs at Groupon

More layoffs announced at Aniston Weapons Incinerator

Murray Energy confirms 150 layoffs at 3 subsidiaries

130 laid off in Minnesota dairy plant closure

Stanford brake plant to lay off 75

Turbocare, Oce to lay off more than 220 workers

ATI plans to lay off 172 workers in North Richland Hills

SpaceX claims its first victims as Rocketdyne lays off 100

Providence Journal lays off 23 full-time employees

CVPH lays off 17

New Energy lays off 40 employees

102 Utah miners laid off because of 'war on coal', company says

US Cellular drops Chicago, cuts 640 jobs

Career Education to cut 900 jobs, close 23 campuses

Vestas to cut 3,000 more jobs

First Energy to cut 400 jobs by 2016

Mine owner blames Obama for layoffs (54 fired last night)

Canceled program costs 115 jobs at Ohio air base

AMD trims Austin workforce - 400 jobs slashed

100 workers lose jobs as Caterpillar closes plant in Minnesota

Exide to lay off 150 workers

TE Connectivity to close Guilford plant, lay off 620

More Layoffs for Major Wind Company (3,000 jobs cut)

Cigna to lay off 1,300 workers worldwide

Ameridose to lay off hundreds of workers
#5 According to the Blaze, the following major corporations have all announced layoffs in just the past two days...
Boeing (30% of their management staff)
Momentive Performance Materials
You can get the rest of the details right here.
#6 The following is a list of companies that will be laying off workers just because of Obamacare that was compiled by FreedomWorks...
Dana Holding Corp.

As recently as a week ago, a global auto parts manufacturing company in Ohio known as Dana Holding Corp., warned their employees of potential layoffs, citing "$24 million over the next six years in additional U.S. health care expenses".  After laying off several white collar staffers, company insiders have hinted at more to come.  The company will have to cover the additional $24 million cost somehow, which will likely equate to numerous cuts in their current workforce of 25,500 worldwide.  

Stryker

One of the biggest medical device manufacturers in the world, Stryker will close their facility in Orchard Park, New York, eliminating 96 jobs in December.  Worse, they plan on countering the medical device tax in Obamacare by slashing 5% of their global workforce - an estimated 1,170 positions.

Boston Scientific

In October of 2009, Boston Scientific CEO Ray Elliott, warned that proposed taxes in the health care reform bill could "lead to significant job losses" for his company.  Nearly two years later, Elliott announced that the company would be cutting anywhere between 1,200 and 1,400 jobs, while simultaneously shifting investments and workers overseas - to China.

Medtronic

In March of 2010, medical device maker Medtronic warned that Obamacare taxes could result in a reduction of precisely 1,000 jobs.  That plan became reality when the company cut 500 positions over the summer, with another 500 set for the end of 2013.  

Others

A short list of other companies facing future layoffs at the hands of Obamacare:

Smith & Nephew - 770 layoffs
Abbott Labs - 700 layoffs
Covidien - 595 layoffs
Kinetic Concepts - 427 layoffs
St. Jude Medical - 300 layoffs
Hill Rom - 200 layoffs
A lot of other businesses are going to reduce the number of employees they have or reduce the average work week in order to avoid the Obamacare insurance coverage mandate that will soon be implemented.
This is how CNSNews.com describes the choice that many employers will be facing...
That section, known as the employer mandate, requires any business with 50 or more full-time employees to provide at least the minimum level of government-defined health coverage to those employees. In other words, a business must provide insurance if it has 50 or more employees working an average of just 30 hours per week, which is 10 hours per week fewer than the traditional 40-hour work week.

Thus, by cutting employees' hours to ensure they average less than the 30 per week, employers could potentially avoid the cost of providing the minimum insurance levels mandated by Obamacare.
So if your company trims the number of workers to just under 50 or starts going to "29 hour work weeks", then you will know who to blame.
All of this is complete and utter insanity.  We are committing national economic suicide.
But perhaps we deserve this.  After all, Americans willingly chose their leaders on election day.  It is getting harder and harder to deny that our politicians are truly a reflection of who we are as a nation.
The American people chose this path, and now we get to see where it leads us.
Top US Companies Plan Layoffs Because of Obamacare
 Employers can't find enough skilled labor to fill jobs
Living Paycheck To Paycheck: Two-Thirds Of Americans Are Struggling To Get By
by Jim Forsyth 09/20/12
SAN ANTONIO, Sept 19 (Reuters) - More than two-thirds of Americans are now living paycheck to paycheck, according to a survey released on Wednesday by the American Payroll Association. The survey of 30,600 people found that 68 percent said it would be somewhat difficult or very difficult if their paychecks were delayed for a week. These results show Americans are still struggling with the recession's effects, the association said.
"This study clearly shows that Americans are finding it hard to save," said Dan Maddux, executive director of the San Antonio-based association of payroll managers.
In 2006, 65 percent of respondents reported living paycheck to paycheck, a figure that shot up to 72 percent in 2010 in the wake of the recession.
The survey was released during a week when a video of Republican Mitt Romney sparked a national conversation about the 47 percent of Americans who, Romney told donors, don't pay income taxes and are dependent on government.
Tracy Martinez knows the feeling of living paycheck to paycheck.
The San Antonio woman has a college degree. She and her husband both work, but Martinez still holds her breath that she won't have any emergencies come up, especially in the days right before payday.
"It seems like all the money goes away so quickly," she said. "It's kind of scary."
Wendy Kowalik, president of the San Antonio financial planning firm Predico Partners, called the study "disturbing, but not surprising."
Saving money is becoming more difficult, if not impossible, for more U.S. workers, Kowalik said.
"All of us in the industry are seeing it more often, that more and more clients are unable to save for the future," she said.
The main reason Kowalik's clients live paycheck to paycheck is that they have come to see luxuries as essential expenses, she said.
"Cable used to be a luxury. Now it's expected," she said. "People have an expectation that they should have a mobile phone, you should be able to have the Internet. People are going to have to change their outlook and put things into perspective."
The American Payroll Association, a trade group for more than 20,000 people who prepare checks, said it conducted the online survey between May and Sept. 7. It had a margin of error of plus or minus 1 percent.
Republicans block vote on veterans jobs bill
 By Karen McVeigh, The Guardian
  UPDATE: Senate Democrats failed to achieve cloture and thus prevent a filibuster on the legislation. Sen. Tom Coburn (R-OK) led the opposition to the bill, arguing that the nation's debt overrode its obligations to help veterans get jobs, and only 5 Republicans voted to proceed with the debate, leaving Democrats two votes short of the 60 required to block a threatened Republican filibuster.
Veterans groups and Democrats are urging Republican senators to put political bickering aside and stop blocking a bill which would help offset high unemployment rates among veterans.
Senators were due to vote on Wednesday on the bill which would cost $1bn over five years to help veterans find employment in public work projects and as police officers and firefighters. It gives priority to the newest generation of veterans, post-9/11, whose employment prospects are almost three percentage points below the national average.
Minutes before the vote, Patty Murray, the Democratic senator who introduced the bill, gave an impassioned speech from the floor, asking for unity to pass the bill which she said "should not be killed by procedural games".
She said "I urge my colleagues to join with us in waiving this point of order. To join with us in telling our veterans that we are not done investing in their care and benefits – not by a long shot."
She said that a vote for the point of order proposed by the Republicans sent a message to veterans telling them: "We have spent enough on our veterans." It would have a long-lasting impact, she said, not only to kill their ability to pass the bill but would also affect other veteran bills to improve mental health care access and to allow those who had lost the ability to have children access to fertility services.
She added: "Join with us in moving forward with a bill that is paid for, that won't add to our deficit, and that shouldn't be killed by procedural games.Join with us in putting veterans above political obstruction, and back to work."
The vote, postponed from last week because of Republican manoeuvres, is the latest in a series of measures to delay the bill, as members of the House prepare to leave Washington to campaign on their re-election.
Such political battles over legislation are not unusual within the current, polarised Congress. The 112th Congress is on course to break records for the least productive body on a generation, passing only 173 laws, below the 906 enacted in what President Harry Truman referred to as the "Do Nothing" Congress in 1947-8 according to the New York Times.
But supporters of the veterans bill say the delays in a measure which has bipartisan support, which has been widely rewritten to include Republican amendments and which would benefit those who have risked their lives for the nation, mark a new low for those who have sought to delay it.
Democrats and veterans' groups say the bill's costs are fully offset and have accused some Republicans of playing partisan politics at the expense of helping military personnel who struggle to regain employment when they return from deployment.
Ramsay Sulayman, of Iraq and Afghanistan Veterans of America, said he was saddened to see "a very small group of people that are standing for principle to block the bill from even coming to a vote" on an issue which he said had seen a strong spirit of bipartisan support.
"That's what we object to" said Sulayman. "If people say 'We don't like the bill' and stand up and get up and vote and go on the record … that is different. It's sad to see a few people holding a bill to hostage."
Sulayman, a marine corp veteran and reservist, said it appeals to a "vast majority of the Senate who would want to get it on the floor".
"Veterans employment was 10.9% in August. It is bad for everyone but there continues to be a disparity for veterans."
The jobs bill is based on a proposal in President Barack Obama's state of the union address in January.
Matt McAlvanah, a spokesman for Murray, said: "Patty Murray's position is that, with unemployment of young veterans close to 20% and veterans suicide continuing to be epidemic, we cannot put a price on the amount of care we're working to provide veterans."
The Democrat-sponsored bill has already been extensively rewritten to include amendments by Republicans and has bipartisan support. Eight of the 12 provisions in the bill were Republican originated ideas.
Democrats need 60 votes to waive the budget point of order and allow the bill to progress.
There are 51 Democrats and two independents likely to vote in its favour. Democrats have also pinned their hopes on a number of Republicans who are strong supporters of veteran issues, including senators Scott Brown, who serves on the US Senate committee on veterans' affairs, and Dean Heller of Nevada, who has introduced two bills to help veterans.
Harry Reid, the majority leader of the Senate, said the bill had met "one Republican stall tactic after another", in a post to his Twitter account last week. He said the delaying tactics marked a "new low" for Republicans.
Jeff Sessions, the Senate budget committee ranking member, said he objected to the bill on the grounds it would increase the veterans affairs department budget and would blow though the spending cap lawmakers agreed last year.
Democrats argue the bills costs are already covered by plans to collect more than half a billion in unpaid taxes over the next five years, according to the Washington Examiner.
The bill was held up in the Senate last week after filibustering by Rand Paul, the Republican senator from Kentucky, to gain support for a Pakistani doctor who helped locate Osama Bin Laden.
Paul has promised to block Senate action until the doctor, Shakil Afridi, is released from jail. The Pakistani government has said it will not release him. Paul has also called on the Obama administration to cut foreign aid to Pakistan until Afridi is released
The 49 Best Ways To Find A Job In Today's Horrible Economy"
Found this great package in helping you find work put together by  TheLadders' Editor-in-Chief, Matthew Rothenberg and then categorized in order  a list of 49 BEST LINKS by  Marc Cenedella of BUSINESS INSIDER and just had to copy and post it here for our readers to be able to use this  knowledgeable advice packages with excellent advice on finding your next great job. I've included links to all 49 of them below
You'll find great insights on age discrimination, handling the Web and social networks, what happens to your resume when you click "send", negotiating your offer, handling a declining industry and much, much more.
So, while I don't expect you to read all 49 of them (that would be more than 300 pages!), let me make a recommendation:
Pick the five that are most relevant to you, print them out, and read just one each day this week. You can do it on the treadmill, the train or as you're flying around this big old country of ours. It won't take much time, but it's a great way to get smarter about your job hunt...
Our 49 best advice packages (click on the link to download)
Majority of New Jobs Pay Low Wages, Study Finds
 While a majority of jobs lost during the downturn were in the middle range of wages, a majority of those added during the recovery have been low paying, according to a new report from the National Employment Law Project.
The disappearance of midwage, midskill jobs is part of a longer-term trend that some refer to as a hollowing out of the work force, though it has probably been accelerated by government layoffs.
"The overarching message here is we don't just have a jobs deficit; we have a 'good jobs' deficit," said Annette Bernhardt, the report's author and a policy co-director at the National Employment Law Project, a liberal research and advocacy group.
The report looked at 366 occupations tracked by the Labor Department and clumped them into three equal groups by wage, with each representing a third of American employment in 2008. The middle third — occupations in fields like construction, manufacturing and information, with median hourly wages of $13.84 to $21.13 — accounted for 60 percent of job losses from the beginning of 2008 to early 2010.
The job market has turned around since then, but those fields have represented only 22 percent of total job growth. Higher-wage occupations — those with a median wage of $21.14 to $54.55 — represented 19 percent of job losses when employment was falling, and 20 percent of job gains when employment began growing again.
Lower-wage occupations, with median hourly wages of $7.69 to $13.83, accounted for 21 percent of job losses during the retraction. Since employment started expanding, they have accounted for 58 percent of all job growth.
The occupations with the fastest growth were retail sales (at a median wage of $10.97 an hour) and food preparation workers ($9.04 an hour). Each category has grown by more than 300,000 workers since June 2009.
Some of these new, lower-paying jobs are being taken by people just entering the labor force, like recent high school and college graduates. Many, though, are being filled by older workers who lost more lucrative jobs in the recession and were forced to take something to scrape by.
"I think I've been very resilient and resistant and optimistic, up until very recently," said Ellen Pinney, 56, who was dismissed from a $75,000-a-year job in which she managed procurement and supply for an electronics company in March 2008.
Since then, she has cobbled together a series of temporary jobs in retail and home health care and worked as a part-time receptionist for a beauty salon. She is now working as an unpaid intern for a construction company, putting together bids and business plans for green energy projects, and has moved in with her 86-year-old father in Forked River, N.J.
"I really can't bear it anymore," she said, noting that her applications to places like PetSmart and Target had gone unanswered. "From every standpoint — my independence, my sense of purposefulness, my self-esteem, my life planning — this is just not what I was planning."
As Ms. Pinney's experience shows, low-wage jobs have not been growing especially quickly in this recovery; they account for such a big share of job growth mostly because midwage job growth has been so slow.
Over the last few decades, the number of midwage, midskill jobs has stagnated or declined as employers chose to automate routine tasks or to move them offshore.
Job growth has been concentrated in positions that tend to fall into two categories: manual work that must be done in person, like styling hair or serving food, which usually pays relatively little; and more creative, design-oriented work like engineering or surgery, which often pays quite well.
Since 2001, employment has grown 8.7 percent in lower-wage occupations and 6.6 percent in high-wage ones. Over that period, midwage occupation employment has fallen by 7.3 percent.
This "polarization" of skills and wages has been documented meticulously by David H. Autor, an economics professor at the Massachusetts Institute of Technology. A recent study found that this polarization accelerated in the last three recessions, particularly the last one, as financial pressures forced companies to reorganize more quickly.
"This is not just a nice, smooth process," said Henry E. Siu, an economics professor at the University of British Columbia, who helped write the recent study about polarization and the business cycle. "A lot of these jobs were suddenly wiped out during recession and are not coming back."
On top of private sector revamps, state and local governments have been shedding workers in recent years. Those jobs lost in the public sector have been primarily in mid and higher-wage positions, according to Ms. Bernhardt's analysis.
"Whenever you look at data like these, there is this tendency to get overwhelmed, that there are these inevitable, big macro forces causing this polarization and we can't do anything about them. In fact, we can," Ms. Bernhardt said. She called for more funds for states to stem losses in the public sector and federal infrastructure projects to employ idled construction workers. Both proposals have faced resistance from Republicans in Congress.
 Only 24.6 Percent Of All Jobs In The United States Are Good Jobs
 Do you want to know why it seems like good jobs are very rare in the United States today?  It is because good jobs are very rare in the United States today.  According to a paper that was just released by the Center for Economic and Policy Research, only 24.6 percent of all American jobs qualified as "good jobs" in 2010.  Over the past several decades, there has been increasing pressure on corporations to reduce expenses and increase corporate profits.  One of the biggest expenses that any corporation faces is labor.  Large corporations all over the globe are in an endless race to gain a competitive advantage by pushing labor costs as low as possible.  Sometimes this is done by using technology.  Computers, automation, robotics and other forms of technology have eliminated millions of jobs in the United States and those jobs are never coming back.  Millions of other jobs have been eliminated by offshoring.  In our globalized economy, American workers have been merged into one giant labor pool with everyone else.  That makes it very tempting for big corporations to move jobs from areas where workers are very expensive (such as the United States) to areas of the world where it is legal to pay slave labor wages.  When big corporations do this, corporate profits go up, but the number of good jobs in the United States goes down.  As a result, there is increased competition for the jobs that remain in the United States and this drives down wages.  Meanwhile, the cost of living just keeps going up.  So millions of American families have fallen into poverty in recent years, and millions of others have gone deep into debt in an attempt to survive.  This dynamic is absolutely shredding the middle class in the United States.
Advertisement
<a href='http://opx.beforeitsnews.com/delivery/ck.php?n=aa00448f&cb=INSERT_RANDOM_NUMBER_HERE' target='_blank'><img src='http://opx.beforeitsnews.com/delivery/avw.php?zoneid=20&cb=INSERT_RANDOM_NUMBER_HERE&n=aa00448f' border='0' alt='' /></a>
So how exactly did the authors of the paper mentioned above come to the conclusion that only 24.6 percent of all jobs in the United States are good jobs?
Well, they had three criteria for what a "good job" is….
#1 The job must pay at least $18.50 an hour.  According to the authors, that is the equivalent of the median hourly pay for American workers back in 1979 after you adjust for inflation.
#2 The job must provide access to employer-sponsored health insurance, and the employer must pay at least some portion of the cost of that insurance.
#3 The job must provide access to an employer-sponsored retirement plan.
Using those criteria, the authors of the study found that only 24.6 percent of all jobs in the United States are good jobs.
So why are there so few good jobs in this country?
Is it because we aren't educated enough?
No, the authors of the study found that 34 percent of all U.S. workers had a four-year college degree in 2010, while only 19 percent of all U.S. workers had a four-year college degree in 1979.
So what is the problem?
Sadly, the truth is that in a global economy U.S. workers are viewed as very expensive liabilities.
In the United States today, hiring a worker is a very complicated and expensive proposition.  There are thousands upon thousands of laws, rules and regulations that must be complied with, and more are constantly being added.  In addition, there are a bunch of taxes that must be paid for each employee in addition to the salary and benefits that they are owed.
So for big corporations it makes a lot of sense to move jobs to countries where there is very little red tape and where you can pay workers next to nothing.
Neither major political party is doing anything to stop our economy from bleeding good jobs, and so it will continue happening.
To get an idea of just how bad the unemployment situation has gotten in the United States, it is important to look at the U-6 rate which is often called the "real" rate of unemployment.
The U-6 rate includes "discouraged" workers that have given up on looking for a job and it also includes those that have part-time jobs but that really would like full-time jobs.
When you look at the U-6 rate, the increase in unemployment from just 5 years ago is absolutely staggering.  The following is from a recent CNBC article….
Consider: Nevada's U-6 rate is 22.1 percent, up from just 7.6 percent in 2007. Economically troubled California has a 20.3 percent real rate, while Rhode Island is at 18.3 percent, more than double its 8.3 percent rate in 2007.

Those numbers compare especially unfavorably to the national rate, high in itself at 14.9 percent though off its record peak of 17.2 percent in October 2009.
Ouch.
Those often being hit the hardest are those just entering the labor market.  For example, about 53 percent of all U.S. college graduates under the age of 25 were either unemployed or underemployed last year.
Most of the jobs that are available for young college graduates (or for the rest of us for that matter) are crappy low paying jobs that often come with no benefits.
In the United States today, one out of every four workers makes ten dollars an hour or less.
So can you pay the rent and support a family on ten dollars an hour?
Of course not.
But these kinds of jobs are becoming more of a part of the labor market in the United States than ever before.
Three decades ago, less than 30% of all jobs in the United States were low income jobs.
Now, more than 40% of all jobs in the United States are low income jobs.
Will it soon be 50 percent?
Sadly, many Americans are just thankful to be able to find any job at all.  There are millions of workers out there that have become so frustrated that they have given up on finding a job entirely.
The U.S. government says that the number of Americans "not in the labor force" rose by 17.9 million between 2000 and 2011.  During the entire decade of the 1980s, the number of Americans "not in the labor force" rose by only 1.7 million.
Something has gone horribly, horribly wrong.
Well, if the economy is not producing enough good jobs, could starting your own business be the answer?
Unfortunately, our politicians absolutely love to swamp our small businesses with taxes, rules and regulations.
If a small business can somehow survive our politicians, then it must also somehow find a way to survive competition from the giant predator corporations that ruthlessly dominate our economy.
When you consider how much is stacked against our small businesses, it becomes easy to understand why they are doing so badly today.
For example, it was recently revealed that the U.S. economy lost more than 220,000 small businesses during the recent recession.
But small businesses did not just suffer during the recession.  The truth is that they have been hurting for a long, long time.
In fact, the percentage of Americans that are self-employed fell by more than 20 percent between 1991 and 2010.
And small businesses are creating jobs at a much lower rate than they did previously.
In 2010, the number of jobs created at new businesses in the United States was less than half of what it was back in the year 2000.
So needless to say, we are facing some major problems.
The way that our economic system is structured is absolutely killing American workers and it is absolutely killing small businesses in the United States.
If we continue on the path that we are on, things are going to get even worse.
.
 `TIPS FROM Michael Angelo Bosch AKA THE MESSAGEMAN
It's becoming harder & harder to find and keep a job in today's market and many people particularly our younger folks are NOT trying to contribute to their advancement and it is now time for them to begin a drastic transformation in everything they do and know about themselves in order to survive .
 DID YOU KNOW"
20% of Americans can't read or write well enough to fill out a job application.
And their daily attire speaks volumes especially in the job and business world, Many of your young adults truly believe that if their wearing a nice pair of new jeans a denim shirt with a tie and sneakers that that's OK for an interview" While you may look nice or you feel comfortable in the job market it gives off a lazy some what non educated or not knowledgeable look and PLEASE!! do your hair or get a hair cut groom your facial hair or shave and for God sake prepare a resume and make sure it's updated"
While at an interview make sure you sit at the edge of the seat, don't sit back and relax slouching in your seat, give eye contact and allow the interviewer to speak without cutting him or her off keep your hand out of your pockets and in front of you and when meeting or ready to leave give a good firm confident hand shake .
KEEPIN IT REAL
You do NOT look good at an interview or while out looking for a job  with a jersey or T shirt or shirt hanging out of your pants while wrinkled and not ironed and your pants all hanging low off your butt .
 Do not bring your loud talking always clowning wild and crazy friends to tag along with you to the interview.
While waiting in the lobby for your appointment  DO NOT call  or accept a call  on your cell talking loud laughing and or using fowl language.
Do not bring food or snacks with you to the interview and begin to eat at the lobby while waiting for your turn.
 If you need interview clothes for a job but don't have money there are organizations that may be able to help.  CareerGear.org and Wardrobe.org are 2 organizations that can help you get interview suits.
 WAYS TO UPDATE & PREPARE YOUR RESUME
Your resume speaks for you" it tells the company who you are your experience your strengths your references and so much more but  if you don't want to figure out the exact formatting of your resume and other tedious tasks, Resunate is a service that'll simply take your information and create a resume tailored to the type of job you want. If you've got a LinkedIn profile, you can also use the LinkedIn resume builder to save yourself the hassle of reassembling that information. If you want something a little different, VIsualize.me can create an infographic out of your work experience.
Take advantage of your resources on the internet while utilizing all social networks to promote yourself while at the same time being  careful and aware  of your postings and image on site.
GOOD LUCK in the job market and with your career and remember FAILURE IS MIND OVER MATTER - IF YOU DON'T MIND FAILING THEN IT WON'T MATTER"

Morgan Stanley Consolidates
TODAY'S UPDATE
Morgan Stanley, which recently said it would cut hundreds of jobs as part of a firmwide cost-cutting initiative, is now turning its attention to the retail brokerage. And things are going to be bloody there, too, Reuters reports.
The firm is discussing more streamlining plans that could include a 10% cut in the number of branch offices. As many as 100 offices could be affected.
Office managers may also be expected to generate revenue, instead of just managing people who generate revenue.
The cost-cutting program is known internally as "Project August," which hopefully signifies how long it will last (no word on whether there's a "Project September" as well).
MS is trying to reach profit margins in the mid-teens for its wealth management business. In the second quarter, it reached 12%.
JOB CUTS GETTING WORSE
The numbers are in, and they're not pretty.
Announced job cuts in the finance industry doubled since last year, according to a new report by Chicago-based outplacement company Challenger, Gray & Christmas. The industry announced 6,156 layoffs in July of this year, compared to 3,018 a year earlier.
So far this year, banks, brokerages and other financial-services companies have announced plans to cut 26,352 jobs, nearly double the 14,752 it said it would cut a year earlier.
Practically every bulge bracket bank has announced layoffs, including Citigroup, Morgan Stanley, Credit Suisse and Deutsche Bank.
Another metric you can use to monitor the industry's health is looking at how the recruiting agencies are faring. Staffing agency Robert Walters, which does much of its work in the Asia-Pacific region, said its second-quarter profit fell 56% from a year earlier amid a lag in banking sector hiring.
It's not just the banks that are hurting: it's employees and the people who find them, too
And the Layoffs Continue
By JULIE STEINBERG
Second quarter earnings are revealing a persistently weak financial industry and the necessary steps banks must take: more layoffs.
Over the past year, the six largest U.S. financial institutions have shed 18,000 jobs, The Wall Street Journal reports. That list includes Goldman Sachs, Morgan Stanley, Bank of America, J.P. Morgan, Wells Fargo and Citigroup. Most of the banks are planning more cutting, they announced this week.
In an earnings call yesterday, Morgan Stanley said its staff roster would decrease by 7%, or 4,100 people, due to weak economic growth and low trading volumes. Its revenue declined 24% in the second quarter, the bank said.
The fallout isn't limited to American banks. Both Credit Suisse and Deutsche Bank will be bringing out the ax. Credit Suisse will lay off another 138 employees in New York by the end of the year, while Deutsche will cut nearly 1,000 investment banking staff around the world, most likely senior bankers and back office staff. The one silver lining is the bank doesn't want to cut staff in Germany.
Makes you wish you could say "Ich bin ein Berliner.
The Federal Reserve Is Not Going To Save Us From The Great Depression That Is Coming
Federal Reserve Chairman Ben Bernanke delivered his annual address to Congress on Tuesday, and he did very little to give lawmakers much confidence about where the U.S. economy is heading.  Bernanke told members of Congress that recent economic data points "
suggest further weakness ahead
" and that the Federal Reserve is projecting that the U.S. unemployment rate will remain at 7 percent or above all the way through the end of 2014.  Now, it is important to keep in mind that Federal Reserve forecasts are almost always way too optimistic.  The actual numbers almost always end up being much worse than what the Fed says they will be.  So if Bernanke is saying that the U.S. unemployment rate will be 7 percent or higher until the end of 2014, then what will the real numbers end up looking like?  During his testimony, Bernanke seemed unusually gloomy about the direction of the U.S. economy.  He seemed resigned to the fact that there really isn't that much more that the Federal Reserve can do to stimulate the U.S. economy.  Yes, the Federal Reserve could try another round of quantitative easing, but the first two rounds did not really do that much to help.  The truth is that the United States is absolutely drowning in debt, and when that debt bubble finally bursts the Federal Reserve is simply not going to be able to save us from the Great Depression that will happen as a result.
Advertisement
<a href='http://opx.beforeitsnews.com/delivery/ck.php?n=aa00448f&cb=INSERT_RANDOM_NUMBER_HERE' target='_blank'><img src='http://opx.beforeitsnews.com/delivery/avw.php?zoneid=20&cb=INSERT_RANDOM_NUMBER_HERE&n=aa00448f' border='0' alt='' /></a>
At this point, Bernanke appears to be in "cya" mode.  For example, the following is from Bernanke's prepared remarks to Congress on Tuesday....
The second important risk to our recovery, as I mentioned, is the domestic fiscal situation. As is well known, U.S. fiscal policies are on an unsustainable path, and the development of a credible medium-term plan for controlling deficits should be a high priority. At the same time, fiscal decisions should take into account the fragility of the recovery. That recovery could be endangered by the confluence of tax increases and spending reductions that will take effect early next year if no legislative action is taken. The Congressional Budget Office has estimated that, if the full range of tax increases and spending cuts were allowed to take effect--a scenario widely referred to as the fiscal cliff--a shallow recession would occur early next year and about 1-1/4 million fewer jobs would be created in 2013. These estimates do not incorporate the additional negative effects likely to result from public uncertainty about how these matters will be resolved. As you recall, market volatility spiked and confidence fell last summer, in part as a result of the protracted debate about the necessary increase in the debt ceiling. Similar effects could ensue as the debt ceiling and other difficult fiscal issues come into clearer view toward the end of this year.

The most effective way that the Congress could help to support the economy right now would be to work to address the nation's fiscal challenges in a way that takes into account both the need for long-run sustainability and the fragility of the recovery. Doing so earlier rather than later would help reduce uncertainty and boost household and business confidence.
Did you catch that?
Bernanke says that the federal government is on an "unsustainable path" and must reduce debt, but he also says that the economy cannot afford tax increases and spending cuts right now.  In fact, Bernanke is warning that "a shallow recession would occur early next year" if something is not done about the looming "fiscal cliff" that so many people are talking about.
So what does Bernanke want us to do?
If we continue on the path that we are on, our debt will continue to grow by leaps and bounds.
But if we seriously cut spending or raise taxes, that will significantly slow down the economy.
Either path leads to a whole lot of pain.
Bernanke sounds like a politician that is trying to cover all of his bases without giving us a recommendation about how to fix things.
Of course the truth is that the Federal Reserve system itself is at the very heart of our economic problems and has been the engine that has caused our national debt to explode at an exponential rate, but we all know that Bernanke will never admit that.
Bernanke can see that things are starting to fall apart, and he wants to shift as much blame to Congress and to other entities as he can while there is still time.
Bernanke knows that the U.S. economy is not going to produce enough jobs for our population anymore, and he does not want to be blamed for that.
Bernanke knows that the money printing done by the Fed is going to cause prices to continue to go up and that this will seriously stretch family budgets all over America, and he does not want to be blamed for that.
Bernanke wants to come out of all this looking like a good guy.  At this point he is probably hoping that the next great global financial crisis does not happen until his term ends.
Unfortunately, he is not going to have that luxury.  The next wave of the economic collapse is rapidly approaching, and it is going to hit the U.S. even harder than the last recession did.
And when the unemployment rate soars well up into the double digits, what do you think is going to happen?
The truth is that the entire country will soon resemble cities such as Gary, Indiana and Flint, Michigan.
To get an idea of what most of our cites will soon look like, just check out this video.
When people lose hope, they tend to get desperate.
And desperate people do desperate things.
Just look at the mob robberies that we are seeing all over the country right now.
In Jacksonville, Florida the other day, hundreds of young people that had just left a massive house party that police had broken up decided that they would descend on the local Wal-Mart.
According to police, approximately 300 people stormed into Wal-Mart and started going crazy.  They threw produce at each other, many of them started putting merchandise into their pockets, they destroyed an anti-shoplifting security scanner that is worth about $1,500 and there were even reports that shots were fired outside of the store.
It was absolute chaos.  You can see video of this incident right here.
A similar mob robbery happened in the Portland, Oregon area on Saturday night....
A group of teens targeted a Troutdale store last weekend in a 'flash rob' and investigators are trying to identify the suspects.

Investigators said as many as 40 kids entered the Albertsons store at 25691 SE Stark Street at the same time late Saturday night and started stealing things.

Security officers chased the thieves out, but no one was captured. They also left employees pretty shaken up, including one woman who was in tears after getting terrorized by the robbers.
So will Ben Bernanke and the Federal Reserve be able to save us from this kind of chaos?
Of course not.
If you have any faith in Bernanke at this point then you are being quite foolish.
Our economy is on the verge of collapse, and when it does collapse there is going to be hell to pay on the streets of America.
These days young people seem to commit absolutely brutal crimes just for the fun of it.  For example, in Chicago the other day two teens beat to death a 62 year old disabled man who was collecting cans for no apparent reason whatsoever.  The following is from a report about this incident from the NBC affiliate in Chicago....
Police said a 16-year-old gang member punched Delfino Mora, father to 12 children and a grandfather to 23, last Tuesday in an alley in the 6300 block of North Artesian. Mora's devastated family told NBC Chicago that Mora was on his regular route of collecting cans that he sells for cash when the teens confronted him.

Nicholas Ayala, 17, of the 6300 block of North Talman and Anthony Malcolm, 18, of the 5500 block of North Broadway were both charged with first-degree murder and robbery.

Malik Jones, 16, the Latin Kings member accused of striking Mora, was charged with first-degree murder and ordered held without bail Sunday by Judge Adam Bourgeois.

Police said Jones handed his friends his cell phone to start filming then demanded money from Mora and punched him in the jaw. Ayala and Malcolm are accused of taking turns filming the video which allegedly showed Mora's head smashing into the concrete.
But just because you aren't in the city does not mean that you are safe.
For example, just check out what happened to three rural Michigan teens when they decided that it would be fun to hop on a passing train.  The following is from a recent article in the New York Times....
For generations of Midwestern youths who have grown up hearing the long whistles and deep rumbling of passing locomotives, hopping a freight train to another city has seemed like a free ride to adventure.

But for three rural Michigan teen-agers who actually followed this dream, the results proved disastrous. The two 15-year-old boys and a 14-year-old girl climbed off the train when it stopped last Wednesday evening in a rough neighborhood here. Within hours, the girl had suffered multiple sexual assaults and all three had been shot in the head and left for dead in a park.

One boy, Michael Carter, was killed, while the other, Dustin Kaiser, and the girl staggered to a road and flagged down a truck driver. Dustin is in stable condition at the Hurley Medical Center after two rounds of surgery, while the girl, who was shot through the cheek, was treated and released on Friday, said Donna J. Fonger, a hospital administrator.
Our country is degenerating, and the Federal Reserve is not going to save you.
We have been living in the greatest debt bubble in the history of the planet, and it is going to burst at some point and that is going to cause a massive economic depression.
Just check out what Richard Duncan, the author of The New Depression, told CNBC the other day....
When we broke the link between money and gold forty years ago, this removed all the constraints on credit creation. And afterwards credit absolutely exploded. In the U.S. it grew from $1 trillion to $50 trillion – a fifty-fold increase in forty three years.

This explosion of credit created the world we live. It created very rapid economic growth. It ushered in the age of globalization.

But it now seems credit cannot expand any further because the private sector is incapable of repaying the debt that it has already. And if credit now begins to contract there is a very real danger that we will collapse into a new great depression.
In the chart posted below you can see what he is talking about.  Once upon a time the total amount of debt in the United States (including government debt, business debt and consumer debt) was sitting at about a trillion dollars.
Today, it has nearly reached 55 trillion dollars...
We have lived way above our means for decades, and now a day of reckoning is rapidly approaching.
Ben Bernanke and the Federal Reserve may be able to delay the coming depression slightly, but they cannot avert it.
You better get ready.
How Veterans Can Prepare for Jobs After the Military
Like many of those who lost 
jobs
 in the recession, some military veterans have been forced to take jobs that fall below their capabilities.
The Bureau of Labor Statistics estimates that some 409,000 veterans of all wars who want full-time employment are working part time. A survey of more than 900 veterans conducted in April by Monster.com, the jobs site, showed that just 29% felt they could find suitable work, down from 44% in November 2011.
To avoid that trap, experts say veterans and active service members need to start preparing themselves for life in the private sector as soon as possible.
Active service members "absolutely have to build up their skill sets during their time in the military to give them a head start before they leave," said Jeff Cathey, a senior vice president at Bank of America in charge of military affairs and the company's military bank overseas division. They should start making connections in the private world before leaving active duty, said Eric Weingartner, a managing director of the New York-based nonprofit group the Robin Hood Foundation, which raised $13 million for veterans last year.
"A 24-year-old sniper who hasn't done much in the way of leadership is going to have a tougher time transitioning into a corporate job after leaving active duty," said Cathey, a retired Navy captain. "That's why you also find some of these guys stocking shelves when they should be doing far more."
"

Veterans Should Tout Team-Building Skills

"
Many of the veterans currently seeking bettercareer opportunities don't have a "track record of professional or educational experience outside of the military," said John Tien, a managing director of global consumer operations and technology at Citigroup and a retired Army colonel. They need to tout military skills that translate to the private sector, he said.
"Veteran job seekers should highlight the soft skills that only the military can provide," said Tien. "They should tout their communication skills, their relationship and team-building skills and especially their leadership skills," he said.
"The single greatest factor affecting veteran unemployment and underemployment is skills translation," said Tom Aiello, a former Army captain who now works as a divisional vice president of marketing at Sears Holdings. "Veterans need to find ways to translate their military work experience into corporate terms to bridge that gap. Those in active duty should start preparing a solid resume written not in military terms, but in the terms of their desired career field."
Those unsure how to translate their military experience into non-military terms should consult with someone close outside of the armed forces, said Tien. "Every veteran needs a civilian friend in the professional world who they can trust to review their resume and listen to their story," he said. "Before you speak to a potential employer who never spent time in the military, have someone close to you help you translate that experience."
Cathey of Bank of America said veterans looking for better career opportunities should also target employers that are military friendly. He cited Bethesda, Md.-based aerospace, defense and information security firm Lockheed Martin and Memphis-based logistics services firm FedEx. "FedEx's CEO Fred Smith served in the Marine Corps," he said. "What's more indicative than that?"
Weingartner of Robin Hood said veterans looking for better career opportunities should apply for jobs at companies that rank below the Fortune 500 in addition to large corporations. "Don't forget about the small and mid-size companies you may have never heard of," he said. "Those are the employers that are going to be hiring the bulk of veterans getting jobs."
Correction: Monster.com surveyed more than 900 veterans in April. An earlier version misstated the numbers.
S
ummer Layoff Season in Full Swing
Last summer, Credit Suisse announced a plan to cut 3,500 jobs. A year later, it's still making redundancies under the initiative. The firm will fire 60 directors and managing directors in its European investment banking department, Reuters reports, nearly a third of the unit's head count.
Those affected work in mergers and acquisitions as well as financing and debt issues. Between 10% and 15% of managing directors will be laid off and a third of directors will be fired. Altogether, the bank wants to cut 7% of its workforce around the world.
These cuts aren't being made in a vacuum. Many banks around the world are doing the same, and they're likely to continue, according to Societe Generale research analyzed by eFinancialCareers. Employment in finance since 2007 has dropped by 7%, far less than during the last two major contractions. In 2001, headcount dropped by 16% and by 19% in 1987. Banks have a lot more cutting to do, the report concludes.
Another bit of bad news: The industry hasn't seen the last of smaller pay pools. The report says banks will cut compensation by 29% in coming months.
Also  Asia may be cooling off after years of expansion. Layoffs are spreading at many big banks, especially in the equities arena.
Storms Ahead in Finance
It's safe to say that last week's unemployment report from the Bureau of Labor Statistics left something to be desired.
With the addition of just 69,000 jobs to the overall economy in the U.S. and a slight uptick in unemployment, it is clear that companies' concerns over the state of the global markets is reflected in their hiring practices.
While some areas of the economy have managed to see some semblance of growth over the course of several months, the finance industry hasn't reaped the benefits. With an average addition of 3,000 jobs per month over the past year, which the BLS considers "virtually unchanged," many are wondering when the finance sector will see some improvement.
Even the industry's safe havens aren't faring well. Accounting, an area many have called "recession-proof," lost 14,000 jobs last month. Nigel Gault, chief U.S. economist for IHS Global Insight, said the loss was surprising and difficult to explain, considering accountants tend to always be in demand regardless of the state of the economy.
Still, professionals in the sector seem mostly unshaken. A survey from OneWire, an online finance recruitment platform based in New York, says that 59.9% of 454 finance workers are optimistic about the job market. More than half believe the jobs recovery will be driven by private-sector companies.
The Worst and Best Sales Jobs in America
A job selling securities or commodities at an investment and trading firm is the best-paying sales position in the U.S., earning you an average of $98,810 a year.
Cashier jobs pay the worst at $20,230 a year, according to Forbes, which pulled sales-specific data from the U.S. Bureau of Labor Statistics' Occupational Employment and Wage Estimates.
New York and Connecticut are the best states to sell securities or commodities at such firms: These salespeople earn $135,700 a year on average in New York and $159,950 a year in Connecticut. New York also offers the highest employment level for securities and commodities salespeople.
Washington is the highest paying state for cashiers, who earn an average full-time salary of $25,350 a year. That translates into $12.19 an hour versus $9.73 on average across all states.
Retail salespeople are the second lowest-paid sales occupation, while sales engineers are the second highest. On average, people in jobs belonging to the "Sales and Related Occupations" group earn $37,520 a year, or $18.04 an hour.
Sales expert Tim Wackel told Forbes that low-paying sales jobs tend to be more transactional, low risk, low value and sell a product, while higher paying jobs sell a solution, require more knowledge, and are riskier and more consultative
Sales representative jobs are the fourth hardest openings to fill in the U.S., according to the
2012 Talent Shortage Survey
, released Tuesday by Manpower Group.
The survey of 1,300 U.S. employers shows that 49% of U.S. employers are experiencing difficulty filling any positions within their organizations, down 3% from the number last year.
In both 2010 and 2011, sales reps were the second hardest position to hire for in the U.S., perhaps indicating that while employers are still preoccupied with filling such openings, skilled trades, engineering roles and IT—which ranked as the top three most challenging positions to fill in the U.S.—have taken priority.
Sales reps, particularly those with experience, remain at the top of the Talent Shortage list because companies need them to drive revenue growth, according to the report's authors.
General Mills To Chop 850 Jobs
General Mills will cut 850 jobs--or about 2.4% of its global workforce--as part of a larger restructuring plan to generate cost savings, reports
Dow Jones Newswires
.
About half of the cuts will be in Minneapolis, where General Mills is based. Administrative and support positions will be most affected.
The packaged goods giant, home to brands like Cheerios, Yoplait and Betty Crocker, is struggling in an economy where consumers are visiting supermarkets less and buying fewer products when they do.
Competitors ConAgra Foods and Campbell Soup are also finding it harder to sell more products, as budget-conscious U.S. consumers balk at price increases brought about by rising commodity costs.
In March, General Mills reported lower third-quarter earnings, as sales volume declined and higher costs dampened profit margins.
The company currently has just two U.S. sales openings advertised on its website, and six marketing openings, three of which are for interns.
BANKS CONTINUE TO DESTROY LIVES  WHILE MAKING BILLIONS AT YOUR EXPENSE"
The finance sector announced fewer layoffs in April than it did in March, but the outlook does not look bright for the embattled industry as banks continue to cut costs.
Banks, brokerages and other financial-services companies announced plans to shed 1,768 jobs in April, nearly 50% fewer than March's tally of 3,228, according to a report by Chicago-based outplacement company Challenger, Gray & Christmas.
Year-to-date, the industry has announced 12,860 layoffs, up from 10,654 at the same time last year.
"There's still pressure on financial companies," said John Challenger, chief executive of Challenger, Gray & Christmas. "There's still a lot of uncertainty. The Volcker rule is being talked about today. That's certainly going to impact a bank's ability to take risk and affect their growth."
Challenger believes there will be further restructuring in coming months.
Having brought on thousands in 2010 and 2011 in the aftermath of the financial crisis, banks are now struggling to pare down their ranks without ridding themselves of the source of their profits.
In its first-quarter earnings last month, Bank of Americapledged its commitment to the cost-cutting initiative it began last year. The next phase involves cuts in the investment bank, commercial bank and wealth-management unit.
Other banks like Citigroup, Goldman Sachs and J.P. Morgan are gearing up to fire dozens of investment bankers beginning next month. Underperformers and those nearing retirement age are on deck for cuts.
"I don't see these pressures abating in the short term," Challenger said.

Shareholders Angry at UBS, Too
It was the heat of the moment.
Shareholders around the world are putting their foot down when it comes to what they deem to be extravagant pay at banks. UBS is the latest bank to join the pack, already populated by Citigroup, Barclays and Credit Suisse.
Yesterday, more than one third of shareholders voted against the bank's pay plans for its executives. The say, unfortunately for them, is non-binding.
Chief Executive Sergio Ermotti took home 6.35 million Swiss francs for his work in 2011, about $6.9 million. He joined the firm in April of last year after an unauthorized trading incident cost UBS more than $2 billion and resulted in the departure of then-CEO Oswald Gruebel.
Shareholders also elected Axel Weber to become chairman. He replaces Kaspar Villiger, who is retiring.
BUSINESS TRANSPARENCY "
Financial Firms to Reveal Who In Fact Works For Them
Goldman Sachs and MetLife Inc. are about to break it down.
"It" being data that tracks the race and gender of their employees, that is. The companies came to an agreement with New York City Comptroller John C. Liu and the New York City Pension Funds to reveal such information, The Wall Street Journal reports.
The firms will disclose the race and gender of employees, including senior management, across business lines. The comptroller has been trying to push transparency as part of an initiative to bring more women and minorities into the workforce.
MetLife is scheduled to beat Goldman to the transparency gate, publishing its data later this spring. Goldman will wait until June.
The disclosures may force an issue that's long been a thorn in the financial industry's side: how to ensure women and minorities don't get lost in a sector that's dominated by white men.
Revealing the numbers may make the matter of hiring more women and minorities more pressing for human resources teams. So far the government hasn't imposed quotas for such categories at the firms, so the data may act as an informal nudge toward more inclusion.
NOW FOR SOME GOOD NEWS...
President Obama addressed the nation Thursday night with
a $447 billion jobs plan
to put the unemployed and possibly the never employed to work. For recent college graduates and the class of 2012, Obama's plan could help graduates' land a job with a
small business
or as a teacher.
His speech comes a week after the U.S. learned the economy gained no new jobs in August and the unemployment rate stagnated at 9.1 percent with no indications of future improvement through 2012. Obama passed a $825 billion economic stimulus in 2009, but it did little to create jobs. The nation now faces the prospect of a second recession.
The president proposed new government spending, extended unemployment benefits, a 50% cut in payroll taxes for employees and small businesses, and creation or saving of jobs for construction workers, firefighters, police and teachers. Everything in the package would be paid for, Obama said, adding he will send a detailed budget to Congress next week.
"The purpose of the American Jobs Act is simple: to put more people back to work and more money in the pockets of those who are working," Obama said in his speech.
Max Griffith, a 2011 Wake Forest University graduate, moved back into his parents' house in Omaha, Neb., while he searches for a full-time teaching position. Many college graduates nation-wide have moved home and are still looking for work or have decided to pursue a master's degree. "Jobs in education have been tough to come by," Griffith said. "Education is one of the first things to go on a budget and now schools are asking teachers to teach more classes instead of hiring new teachers."
A National Association of Colleges and Employers survey indicated 2011 college graduates spent more time looking for jobs than the class of 2010. Employers plan to hire 19.3 percent more graduates in 2011 than they did last year, according to another survey released by the college job market forecaster organization.
Griffith plans to substitute teach and tutor students until he finds a permanent position. Obama's proposed plan to spend $140 billion to save teacher jobs and other public works jobs was uplifting news to him. "I thought it was a well-thought out plan that targeted weak areas in the economy," Griffith said.
Zach Smith, a University of Nebraska-Lincoln senior political science and music major agreed. "Cutting spending is only going to hurt our recovery," Smith said. "What we need is job creation and that is what Obama is offering to do."
Some students, like Neil Dufford, a junior international studies and Russian major at the University of Nebraska-Lincoln, think increased government spending will not create a better job market for college graduates. Obama's Keynesian strategy in his first stimulus didn't work, Dufford said, and the economy needs to recover on it's own. "I don't think that President Obama's plan will necessarily help out recent and future graduates," Dufford said. "A lot of his bill seems to be geared toward extending current benefits and providing incentives to prevent further lay-offs."
What do you think: Was president Obama on track with his speech? Will any of his proposals help college students?
Hope Returns for War Vets
Things are looking up for Iraq and Afghanistan war veterans.
Over the past year, 224,000 veterans of those wars joined the workforce, Kyle Stock writes at The Daily. Most of that job growth happened in the past three months, signaling the recent willingness of companies to bring on vets is finally showing up the jobs data.
Companies that hire veterans receive tax breaks of $2,400 to $4,800 per job, a law that was passed last November.
In March, 10.2% of soldiers and sailors who served in those wars were unemployed, down from 11.5% in November before the tax credits were implemented.
Finance firms in particular have a special interest in hiring vets. JPMorgan and Citigroup have joined a national initiative to employ veterans, who are known for their discipline, hard work and commitment to teamwork. Indeed, Citigroup has hired more than 450 veterans over the past year.
The firm, along with four other big banks, is part of Veterans on Wall Street, an organization devoted to providing finance opportunities for former servicemembers.
SOME SAY UNEMPLOYMENT IS UP SOME SAY IT'S DOWN.
Unemployment Rate At A Staggering 22.2% :John Williams
John Williams, of Shadowstats, notes that manipulated government statistics are not changing the fact that the true SGS Unemployment Measure now sits at a staggering 22.2%. Williams also demonstrates that despite the hype from Wall Street about a recovery, parts of the economy remain collapsed. Here is what Williams had to say about the situation: "Adding the SGS estimate of excluded long-term discouraged workers back into the total unemployed and labor force, unemployment—more in line with common experience as estimated by the SGS-Alternate Unemployment Measure—notched lower to 22.2% in March from 22.4% in February."
"The SGS estimate generally is built on top of the official U.6 reporting, and tends to follow its relative monthly movements. Accordingly, the SGS measure will suffer some of the current seasonal-adjustment woes afflicting the base series, such as recent distortions in adjusted reporting of part-time employment for economic reasons. Nonetheless, there continues to be a noticeable divergence in the SGS series versus U.6. The reason for this is that U.6, again, only includes discouraged workers who have been discouraged for less than a year.
As the discouraged-worker status ages, those that go beyond one year, fall off the government counting, and new workers enter "discouraged" status. Accordingly, with the continual rollover, the headline workers flow into the short-term discouraged workers counted in U.6 continue, and from U.6 into long-term discouraged worker status (SGS Measure) at what appears to be an accelerating pace.
An unemployment rate above 22% might raise questions in terms of a comparison with the purported peak unemployment in the Great Depression (1933) of 25%.  The SGS level likely is about as bad as the peak unemployment seen in the 1973 to 1975 recession.  The Great Depression unemployment rate was estimated well after the fact, with 27% of those employed working on farms.  Today, less that 2% work on farms.  Accordingly, for purposes of Great Depression comparison, I would look at the estimated peak nonfarm unemployment rate in 1933 of 34% to 35%.
Construction activity remains severely impaired—stagnant near the cycle lows.
In line with the ongoing bottom-bouncing reported through February in construction spending, and suggestive of that pattern having continued in March, seasonally-adjusted March construction employment remained stagnant.  Construction jobs purportedly dropped by 7,000 to a level of 5.551 million, per today's labor data report."
Layoffs Mount in Consumer Goods as Commodity Prices Fluctuate
By Damian Ghigliotty
Consumer goods companies are planning more layoffs than all other industries this year due to company reorganizations, rising commodity prices and weak consumer spending, according to Chicago-based outplacement firm Challenger, Gray & Christmas.
Companies such as Procter & Gamble, PepsiCo and Kraft Foods announced a total of 18,438 job cuts in the first quarter of 2012, up from 4,571 in the first quarter of 2011. Other consumer goods companies that have announced layoffs this year include R.J. Reynolds Tobacco and the Conyers, Ga.-based Acuity Brands subsidiary Lithonia Lighting.
"We've seen some of these companies restructuring for the years ahead and we've also seen companies closing down product lines that have become outdated." said John Challenger, chief executive of Challenger, Gray & Christmas. "Consumer spending is not as strong as these companies need it to be and higher commodity costs are having an additional impact on their bottom lines."
The rise of using food for fuel over the past decade, including corn for ethanol, has caused food prices to become more volatile, said Alexia Howard, a Sanford C. Bernstein analyst who covers Kraft. Unpredictable price changes have put "a significant amount of pressure on company margins" for the companies that sell food products, she said.
Soybean futures, for instance, have risen about 20% over the past three months, according to Barchart.com and the Commodity Research Bureau. Other food prices, including corn and wheat, have shifted up and down in the short term, while rising in the long-term. Corn futures, while down in 2012, have been hovering around a 25-year-high.
"As a result of that price volatility, new generations of management teams have had to make their cost structures as efficient as possible," said Howard of Sanford C. Bernstein. "That combined with technological improvements has contributed to the job cuts in consumer goods."
The number of layoffs in the consumer goods industry in March was an improvement over February. Consumer goods companies announced 2,118 job cuts last month, down 85% from 13,856 job cuts in February.
The consumer goods industry often reflects consumer demand and thus employment in other sectors, so the industry will be closely watched in the coming months, said Challenger.
Planned layoffs across all industries in March fell to the lowest level since May 2011, totaling 37,880 job cuts last month, down 27% from 51,728 job cuts in February.
The media industry announced 477 job cuts in March, down from 745 job cuts in February. The retail industry announced 2,175 job cuts in March, up from 2,090 job cuts in February.
Gold futures set to notch quarterly gains
BOSTON (March 30, 2012) – The price of 
gold
was gaining in value on Friday, the final day of the first quarter of the year that gold bugs anticipate will be the 12th consecutive year of annual gains, according to published reports.
Reuters 
reports
 the yellowish metal was hurtling toward gains of 6 percent during the months of January, February and March. Friday's gains for bullion were linked with the world's reserve currency losing value and falling to its lowest rate in roughly 30 days against rival currencies.
The precious metal tracked the upward tick of the common currency of the European Union against the world's reserve currency, which was attributable to optimism for strong results to emerge from European finance ministers' two days of meetings in Copenhagen beginning on Friday.
Reuters reports the ministers early on committed to boost the sovereign debt crisis' emergency fund by 800 billion euros, which proved to be beneficial to the euro and the precious metal.
"All in all gold is still holding fairly well because the U.S. dollar weakened, which gave gold some support," consultant Peter Fertig with Quantitative Commodity Research told the news service. "Gold had a very good start and run-up until the end of February and it's now consolidating part of the gains in March."
As the final trading day of the first quarter of 2012 comes to a close today, gold futures are set to increase around 6 percent in value.
At 8:19 a.m. on Friday, the price of gold increased 0.84 percent, a $13.90 lift to $1,668.80 per troy ounce.
Bloomberg 
reports
 that in addition to capitalizing on the waning strength of the U.S. dollar, the precious metal also benefited from conjecture about Indian jewelers closing a strike.
As one of the globe's two top importers of gold, India might postpone or call an end to its controversial plan to apply increased taxes on imports of the yellowish metal. The subcontinent trails only China for top importer of the yellowish metal in the world.
"Gold has traded positively on the back of USD weakness overnight," analyst Saeed Amen with Nomura International in London told Bloomberg. "Going into month end, there's been some dollar selling."
It remains to be seen whether strong returns for the precious metal during the first quarter of 2012 in general and the final day of that period in particular bode well for the precious metal's performance during the remainder of the year.
Hiring plans strongest since '08: Manpower
Job seekers should 'redouble efforts'
By Ruth Mantell, MarketWatch
WASHINGTON (MarketWatch) — Hiring plans are increasing for the second quarter of 2012, hitting the strongest pace since late 2008, according to the Manpower Employment Outlook survey released Tuesday.
A seasonally adjusted net 10% of employers said they plan to add to their workforce in the second quarter, compared with 9% in first quarter, and 8% in the second quarter of 2011.
"There is some optimism in intention to hire," said Jeffrey Joerres, chairman and chief executive of ManpowerGroup, a Milwaukee-based staffing services firm. "Companies are adding in a very judicious way. When there is uncertainty, they will add in a very cautious, very demand-based manner."
However, it's still going to be tough to find a job, he added.
"This isn't a feeding frenzy. Companies are going to be very picky and selective, which is extremely frustrating for people out of work, but there is more intention to hire," Joerres said. "We are coming into a quarter during which you should redouble your efforts, and get out in the marketplace because there is more hiring going on."
The Manpower survey measures the percentage of firms planning to hire minus the percentage of those intending layoffs. Manpower doesn't measure the number of jobs. When the job market is healthy, the net level is in the mid-20s. Most firms expect no change in their staff levels in the second quarter.
On a not-seasonally-adjusted basis, the net portion of employers who said they plan to increase their workforce in the second quarter was 12% — 18% planned to increase, 6% planned to decrease, 72% expected no change, and 4% didn't know. In the first quarter, a non-seasonally-adjusted net 5% planned an increase, compared with 10% in the second quarter of 2011.
The positive tone of the Manpower survey results echo other employment data. The U.S. Labor Department recently reported another month of growing nonfarm payroll employment, with the economy adding 227,000 jobs in February. Read more about the government's employment report.
A separate report indicated that U.S. private-employment growth is picking up. Over the past three months, gains have averaged 223,000, compared with a monthly average of 156,000 for 2011. Read more about private jobs.
Leisure and hospitality lead
Looking at the Manpower survey by industry, all 13 industries showed stronger and net positive employment outlooks for the second quarter.
"It's a broad based recovery, which gives you a sense that there is more strength. It's not just the auto market, or just the construction market," Joerres said.
The largest net employment outlook is in leisure and hospitality, while the smallest is in government.
"For leisure and hospitality, those entry level jobs are where we see a lot of activity. At the same time it's no surprise that we are seeing a lot of pressure at the state level in government," Joerres said.
Here is the net employment outlook for the second quarter, in order of the most positive first:
Leisure and hospitality, 26% net positive in the second quarter, up from 14% in the first quarterMining, 20%, up from 16%Professional and business services, 17%, up from 9%
U.S. Justice Department unit to ramp up hiring as mortgage probes advance
By Emmanuel Olaoye
NEW YORK, March 6 (Thomson Reuters Accelus) - The U.S. Justice Department plans to step up its hiring of staff to investigate abuses in the packaging of residential mortgage backed securities and to work with regulators to uncover serious fraud, a senior department official told Thomson Reuters in the wake of criticisms that Obama administration efforts were insufficient.
Last week, the former chairman of the Financial Crisis Inquiry Commission claimed that the government was not doing enough to uncover serious fraud. In a New York Times opinion piece, Phil Angelides said the 55 attorneys, agents and analysts assigned to the administration's new mortgage packaging Working Group were not enough to uncover serious fraud. Angelides also criticized the absence of federal regulators in the Working Group. The official, who spoke on condition of anonymity citing the investigations underway, said the Justice Department was "ramping up our staffing significantly" as investigations advance and documents come in.
"At the original press conference we said this was our initial commitment. We envision substantially more personnel being devoted to [the Working Group] than just those 55. We're going to go beyond that," the official said. "It doesn't make any sense to ramp up before you start getting materials in. We're doing that now. Like I said we envision having substantially more staff than that initial number," the official said.
He did not specify hiring targets, but the department has requested a $55 milllion increase for the fiscal year beginning in October to finance the working group. The department will focus its hiring on analysts and accountants with expertise in investigating complex financial transactions.
President Barack Obama announced the creation of the Working Group in his State of the Union speech in January. The unit was established to look into the packaging of toxic mortgages into mortgage-backed securities in the buildup to the financial crisis. Observers have criticized the government's failure to bring criminal prosecutions against sponsors of fraudulent mortgage backed securities. They have criticized the record of officials who head the Working Group in prosecuting mortgage originators in recent years.
Also, the spotlight on the sponsors of mortgage-backed securities has raised questions about the level of coordination among the Justice Department and regulators in bringing prosecutions.
Banks have expressed concern that they could be overwhelmed by requests for information from the government and regulatory agencies conducting overlapping mortgage probes, while Angelides said close cooperation between the regulators and the working group was essential.
The senior official said the Working Group was collaborating with federal and state regulators. The unit is sharing information with the Consumer Financial Protection Bureau and the U.S. Securities and Exchange Commission on pending cases, he said. The Working Group is also looking to hire a coordinator to help organize the work done with state and federal regulators, the official said.
Subpoenas issued by the Justice Department against 11 financial institutions in January were an example of collaboration with other regulators on mortgage packaging abuse, the official said.
Said Justice Department spokesman Adora Andy, "This new working group is primarily focused on fraud in the residential mortgage-backed securities market, marshaling parallel efforts to collaborate on current and future investigations, pooling resources and streamlining processes to investigate those responsible for misconduct contributing to the financial crisis in a comprehensive way."
"Significant efforts continue to move forward, by both federal and state authorities, and if they uncover evidence of fraud or other illegal conduct, we will pursue such conduct aggressively."
Three banks disclosed last week that they may face charges from the SEC related to their packaging of mortgage-backed securities. JPMorgan Chase & Co, Goldman Sachs Group Inc, and Wells Fargo & Co said that they had received Wells notices from the SEC, a letter that the agency sends to defendants to inform that it is considering bringing charges against them.
The Justice Department official said the working group was conscious of the potential burdens caused by multiple investigations. "We recognize that one of the things that led to the creation of the Working Group was the idea that there are a lot of entities out there investigating overlapping conduct. We want to make sure they are working together to get the best results. We want to ensure we get together to share information. If one organization has developed leads or identified potential problems, it may be so that another entity — whether it's the DoJ or the SEC — is best positioned to pursue a case."
(This article was produced by the Compliance Complete service of Thomson Reuters Accelus.  Compliance Complete (http://accelus.thomsonreuters.com/solut ions/regulatory-intelligence/compliance- complete/) provides a single source for regulatory news, analysis, rules and developments, with global coverage of more than 230 regulators and exchanges.)
Sears lays off 100 at its Illinois HQ
CHICAGO – Sears laid off 100 workers at its Hoffman Estates headquarters Thursday, two months after the company got a hefty tax credit for dropping a threat to move its headquarters out of state.
Sears Holding Corp. spokesman Chris Brathwaite said the layoffs of "about 100 associates" at the company's headquarters took effect immediately.
The spokesman said the job cuts did not violate the terms of a $275 million tax deal for Sears approved by the Illinois Legislature and Gov. Pat Quinn in December after the company threatened to move its headquarters out of Illinois. Still, the announcement triggered more criticism of the incentives deal and the lawmakers who passed it from those who opposed it from the start.
The Sears spokesman said the headquarters workforce remains above the job levels required in the legislation even with Thursday's layoffs.
"We are well above the minimum headcount requirements for both the existing legislation expiring in the fall and the new legislation which takes effect in 2013," he said in an email to The Associated Press. "It's important to know that under the legislation if we don't meet our obligations we receive no benefits."
The cuts leave about 6,100 people working at the Hoffman Estates site, he said. The deal with the state requires Sears to keep at least 4,250 jobs there.
Located in the Prairie Stone corporate campus, Sears sits within School District 300's boundaries. Sears and the village of Hoffman Estates both sought an extension of the national retailer's economic development area tax status. School district officials estimated that if it weren't for the EDA, the district would be collecting $13 million annually in tax revenues from Sears instead of $2.9 million a year.
District 300 and its supporters lobbied in Springfield pushing for more transparency and accountability of how the EDA funds are spent and to ensure the schools can receive more tax revenue disbursements. The approved bill gave Sears a 15-year extension on the EDA while doubling the district's annual tax revenues it collects from Sears to $6.2 million.
Then in late December, Sears announced its plans to shutter about 120 stores nationwide. At the time, no Illinois store or operation was targeted for closure. Even so, the Carpentersville-based school district, the sixth largest in the state, criticized the company and questioned whether the $275 million tax deal with the state was more of a corporate bailout than a fair business incentive to keep Sears in llinois.
New Black and Hispanic Channels in the Works
Marketing and media folks are getting several new minority-focused channels to explore.
Comcast is following through on its promise to carry new independently owned networks. The majority of them will offer programming targeted to black and Hispanic viewers.
The largest U.S. cable operator, Comcast this week agreed to run new networks from basketball legend Earvin "Magic" Johnson and hip-hop mogul Sean "Diddy" Combs, in addition to two other minority-owned channels, Bloomberg reported.
The first of those channels, BabyFirst Americas, will begin airing on April 1, while the other three will roll out between the middle of 2012 and the beginning of 2014, according to Media Decoder.
Minority groups voiced concerns about media consolidation when Comcast acquired NBCUniversal last year. In turn, Comcast agreed to add 10 independently owned channels over the course of several years, with eight of them being owned by Hispanic or black individuals.
Really? The Claim: Long Work Hours Can Cause Depression
By
ANAHAD O'CONNOR
THE FACTS
Routinely putting in extra hours at the office can put a strain on your social life. But can too much overtime cause depression?
Scientists put the question to the test in a study of more than 2,000 white-collar workers. Previous research hinted at a link between long hours and depressed mood, and the researchers, at the Finnish Institute of Occupational Health in Helsinki, wanted to examine the issue in depth.
For about five years, they collected data on British civil servants. All of the workers, whose average age at the start was 47, had no mental health problems at the outset. And the researchers adjusted their results to rule out other risk factors, like socioeconomic status, social support, gender and substance use.
Ultimately, the men and women who routinely worked 11 hours a day or more had more than double the risk of developing depression compared with those who usually worked eight hours or less.
The study was published last month in the journal PLoS One.
While the results are not conclusive, another recent study, in The Journal of Occupational and Environmental Medicine, had similar findings. Looking at 10,000 workers, the researchers found higher levels of anxiety and depression in those who put in the most overtime.
A number of factors might explain the increase in risk. People who work longer hours often sleep less, exercise less and experience more stress. A grinding work schedule can be isolating, cutting into time with friends and family. And it may raise the risk of other health problems, some studies show, including heart disease.
US economy sees 243,000 jobs added in January 2012 alone

Encouraging economic news in the United Sates is that despite the downturn, the world's biggest economy managed to generate almost 250,000 new jobs at the start of 2012, hitting off what could potentially be a very promising return for the country.
US Department of Labor announced that in January 2012 alone, the United States created 243,000 new jobs - the "highest total for nine months." And what's more, this isn't just a momentary spike in the employment rate.
Analysts suggest that it is likely that this upswing will continue, as previous forecasts only showed an increase of 150,000 new jobs in the job market, while the present figure has outdone the number by far.
According to the Labor Department figures, the unemployment rate in the US dropped to 8.3 percent from 8.5 percent in December - the lowest the unemployment rate has ever been in the past three years.
And news of these new jobs proved to be quite good for the stock market, as the Dow Jones index shot up 156 points at 12,862 to mark the highest the index has been since May 2008. Nasdaq also saw a boast as it went to its highest point since December of 2000 and even across the pond the news had some good vibrations, as the London stock exchange, the FTSE 100, rose 1.8 percent - the highest it's been since July 2011; Germany's Dax saw a 1.6 percent rise, while at the end of trading on Friday, France's CAC 40 experienced a 1.5 percent rise.
The Labor Department figures detail exactly which sectors of the industry saw the most improvement. While nearly all sectors showed steady growth, it was the business services, leisure and hospitality, and manufacturing, which all saw the largest gains.
The hospitality industry including hotels and restaurants saw a rise of 44,000 jobs, while service areas including architecture, accounting and engineering saw an increase of 70,000 jobs - the highest in 10 months. The retail sector added a total of 10,500 jobs and construction employment rose by 21,000 jobs. Factories also showed a significant increase with an addition of around 50,000 jobs.
The Kraft divide is causing deep cuts throughout the organization.
Mark Stewart, 51, vice president of global media services at Kraft Foods, is leaving the company as one of 1,600 planned layoffs before the company splits into two, Ad Age reported. Stewart has been with Kraft in the same marketing role since February 2009.
"We've had to make some difficult decisions," Valérie Moens, a company spokesperson said in an email statement sent to FINS. "One of them was significantly restructuring our corporate media services group. Mark Stewart and others will be leaving the company."
The company declined to say how many other marketing positions will be cut or how many employees work in Kraft's corporate media services group.
About 40% of the announced job cuts are tied to Kraft's realignment of its U.S. sales force, while about 20% of the job cuts are unfilled positions.
Kraft currently has about 127,000 employees world-wide, with 46,500 in North America.
The Northfield, Ill.-based consumer goods giant will complete its split into separately run companies by the end of the year.
Jobs for 2,400 Sales Reps at Northwestern Mutual
Northwestern Mutual Life Insurance Co., based in Milwaukee, Wis., said it will hire 2,400 commissioned salespeople this year, the most since it was founded in 1857.
The reps will sell risk products and investment solutions, including life insurance, disability insurance and long-term care insurance, to individuals and businesses. The company is increasing the size of its contract sales force to 9,400 to meet increased demand for its products, said Steven Mannebach, the company's vice president of field growth and development. The hires will be made throughout the company's 300 offices nationwide.
Northwestern Mutual expects that more than half of the new reps will be career changers who felt they reached a ceiling in their previous job, said Mannebach.
"In the past, we've hired attorneys, CPAs, MBAs, and other professionals in the financial arena," he said. "Career changers have typically made up about 35% of our recruits and we expect to see that number jump much higher."
The available jobs are commission-only positions. Representatives are given access to benefits packages, including medical, life and disability insurance, as well as retirement benefits if they pay their own premiums. First-year representatives average $45,000 a year from commissions, with the potential to earn more, said Mannebach. Those who have been representatives for five years average $109,000 from commissions, with the potential to earn more, he said.
"The timing is just right," Mannenbach said. "Many job seekers are looking for a financially stable company to work for. The average length of our client relationships is 40 years, since we build those relationships before our clients build wealth and we continue to work with them for the long-term."
Last year Northwestern Mutual was named the "World's Most Admired" life insurance company by Fortune magazine and one of the "50 Best Companies to Sell For" by Selling Power by Fortune magazine and one of the "50 Best Companies to Sell For" by Selling Power magazine.
Northwestern Mutual currently employs about 7,000 financial representatives. The company employs about 5,000 salaried employees at its headquarters in Milwaukee.
Restaurant Sales, Jobs to Grow in 2012
The US restaurant industry expects sales to reach a record high of $632 billion in 2012, 3.5% better than 2011, the second consecutive year that industry sales will exceed $600 billion. Employment in the nation's restaurants is also expected expand by 2.3%, to 12.9 million workers. That job growth is better than the 2011 growth rate of 1.9% and, if the estimate comes true, restaurants will provide 10% of all US jobs.
The National Restaurant Association also notes a few warnings in its annual survey:
Because about one-third of sales in a restaurant go to food and beverage purchases, food prices are a crucial component for operators. Last year, we saw wholesale food prices post their strongest annual increase in more than three decades. In 2012, we will see continued increases in the cost of some commodities, while price pressures will ease for others.
Over the next decade, the association expects restaurant employment to rise by 1.4 million new jobs, bringing total employment in the industry to 14.3 million.